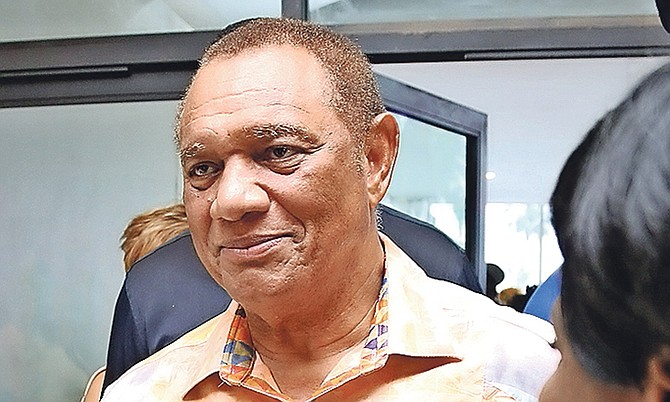 By SANCHESKA DORSETT
Tribune Staff Reporter
sdorsett@tribunemedia.net
FORMER Prime Minister Perry Christie admitted on Sunday he was "in politics too long" but said he had an "exceptional run" in public life.
In an interview with Wendall Jones on the Jones Communication Network, Mr Christie also said he believes he lost his Centreville seat because he "did not campaign" and was instead dedicated "to finishing polices" before the general election.
Last May, in a surprising and humbling defeat at the polls, Mr Christie lost his seat in the Centreville constituency by four votes after representing the area since 1977.
"When I apply retroactive thinking to it, objectively, I can make the judgement that I have been in politics too long," Mr Christie said.
"Take for example how I dealt with Centreville, I should not have lost that seat in Centreville, it is impossible virtually, but I did not campaign. I reached the point where I dedicated myself to finishing policies, one of which was a major intervention on the supply of electricity at an affordable price for Bahamians and I left in place a package that we will talk about later on... People seem to want me to stay in politics because when you tell egregious ignorant lies about me, it really bothers me... I have had an exceptional run in public life and I owe a great deal of gratitude to thousands of Bahamians who made it possible for me to sustain myself in public life for so long.
"I am in the company of Sir Roland Symonette who did 50 years and Sir Lynden Pindling who did 41 years and when you add my public life it's 43 years and so I am in very rarefied company in terms of the history of our country. There have only been three of us who have been able to put that kind of time in."
Mr Christie entered frontline politics in 1974 as one of the youngest senators ever appointed at the age of 31. He joined the House of Assembly after the 1977 general election as the member for Centreville and went on to win his seat eight consecutive times, including the 1987 general election when he contested the seat as an independent candidate.
When asked by Mr Jones about his wishes for 2018, Mr Christie said he hopes the current government can work more with the opposition for the betterment of Bahamians.
"My wish for the New Year is for this government (to) see the significance of bringing all us together to advance the country and create a new paradigm," he said.
"Let's assume they say it has never been done before, well we are able to look back and know if we all take advantage of our strengths the country will be much better off, notwithstanding the fact that we can agree to disagree on many of those issues."
More like this story