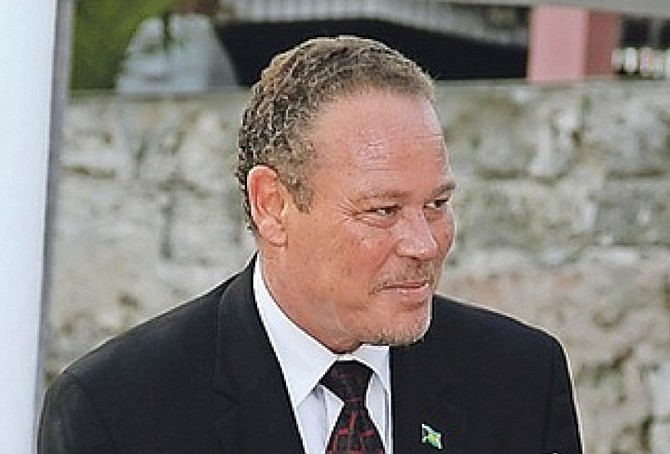 By KHRISNA RUSSELL
Deputy Chief Reporter 
krussell@tribunemedia.net
ATTORNEY General Carl Bethel told The Tribune yesterday an amendment to the Sexual Offences and Domestic Violence Act has been drafted in response to widespread calls from the public for the Minnis administration to criminalise marital rape.
This issue was reignited last month after United Nations Special Rapporteur on Violence Against Women Dubravka Šimonović said marital rape is the most pressing gender-based issue facing the Bahamas. She stressed the legality of spousal rape is a sign that something is deeply wrong, adding the issue could be easily resolved through legislative changes.
"We have drafted an amendment under section 15 of the act to create a matrimonial offence that captures all the elements that are referred to under the broad rubric of matrimonial rape," Mr Bethel said when he was contacted yesterday. "That's the term that is used out there. It's not a term used in the act. Section 15 speaks about spousal sexual abuse so we've drafted something along that line continuing with the seal set by the statute that already exists."
However, he said, there are two changes – the statute of limitation period and who should have the right to order that prosecution commences – which need to be finalised before the amendment is passed on to Cabinet.
"When I get the approval from Cabinet colleagues we will release it.
"But it will be for Cabinet to determine how we proceed, when we proceed or whether we proceed. We have moved the ball a step further towards some form of legislative action."
Since Ms Šimonović raised the concern at a press conference in December, there has been intense public discourse on the matter, which revealed even public officials are divided on the issue.
Last month, Social Services and Urban Development Minister Lanisha Rolle, the only woman in Cabinet, shied away from taking a firm position on whether spousal rape should be criminalised, but said marital rape is "private" and the sanctity of marriage must be protected.
Mrs Rolle said before the government acts or makes determinations that legislate how people's personal lives are managed – adding there are two sides to every story – there should be a proper national conversation on spousal rape. Once a public consensus is taken, she said the Minnis administration should act accordingly.
This did not sit well with attorney and United Nations expert Marion Bethel who said the comments flew in the face of commonsense and human decency. She said Mrs Rolle needed to be more informed and aware of the issues she speaks of before speaking "utter nonsense". Several rights groups subsequently called for Mrs Rolle to resign.
However, Prime Minister Dr Hubert Minnis seemed to take a similar tone to that of his Social Services minister, commenting that he had no personal view when it comes to marital rape. He also said the government would ultimately allow the people's voices to be heard on the controversial issue of whether it should be outlawed.
"I think with all matters (and) new legislation that we will be bringing forth, I think we will take it to the public first, listen to them (and) be guided by them," Dr Minnis commented in a ZNS interview, which aired last month.
"They must have their input and you'll see there is change of focus. There are more involvement and that does not exclude the marital rape and so we'd listen to the people. The people must speak. The people must have their voices be heard."
Asked pointedly for his personal view, he said: "As prime minister I don't have personal views anymore."
However, the prime minister's comments also showed that he and Deputy Prime Minister Peter Turnquest do not agree.
Mr Turnquest has said his personal view is marriage does not give a man the right to "own anybody." Asked whether he believed the issue was something that should be looked at legislatively, the minister of finance said he was "certainly" open to this.