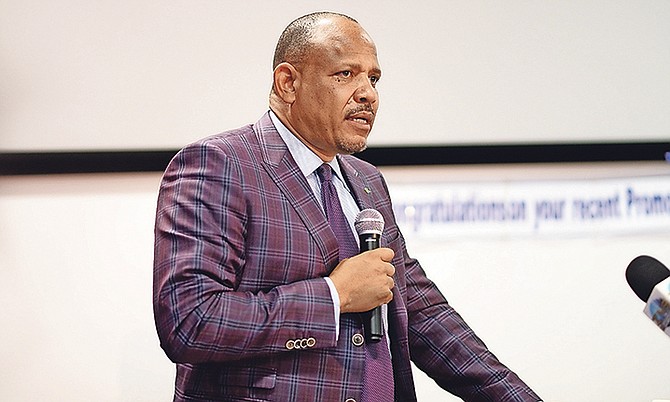 By RASHAD ROLLE
Tribune Staff Reporter
rrolle@tribunemedia.net
HEALTH Minister Dr Duane Sands reiterated yesterday that legalising marijuana is not on the Minnis administration's agenda.
His statement came as CARICOM prepares to host a local town hall meeting in Nassau tomorrow on the issue. 
"We would prefer to use our political capital on issues of job creation, empowerment of Bahamians, crime, health and education because while you can walk and chew gum at the same time, there is only so much contentious debate that you ought to engage in at any given time," Dr Sands told The Tribune.
"This is like Junkanoo, a Valley and Saxons thing. People have strong feelings that either you shouldn't or you should legalise the drug. Some older persons believe that it is the root of all evil. Some people in law enforcement genuinely believe it destroys the brain and bear in mind if you look at the experience we had with marijuana in the 1970s, a longstanding hypothesis was that marijuana started us down the road to the drug culture. Whether valid or not, it is certainly an existing, respected view in this country." 
Dr Sands said when the time comes, the country must be prepared to "debate very tough, emotive issues" like marijuana. 
"My concern is a lot of these discussions end up with terms like 'ya ma' or 'carry your you know what,'" he said. "I don't know how much of it is a discussion or a row. As the former US President Barack Obama said, we have to be able to advance these conversations and disagree without being disagreeable."
Meanwhile, Progressive Liberal Party (PLP) Chairman Fred Mitchell said in a statement the opposition party is interested in the medicinal possibilities of marijuana and in saving young men from the stigma associated with using the drug. 
Before he became an elected official, Dr Sands publicly expressed support for decriminalising possession of small amounts of marijuana. He now stresses that as a Cabinet minister his personal views don't matter because, in keeping with Westminster traditions, he speaks on behalf of the government.
In a Facebook post in 2014, the Elizabeth MP said: "Let us decriminalise possession of small quantities of marijuana to free up our criminal justice system for more heinous crimes."
Yesterday he said the government's official position is that marijuana "is not an issue the Bahamas is going to lead the discussions on, notwithstanding the fact that this is a very topical issue not only around the world but in the Caribbean.
Dr Sands added: "There are people who believe that marijuana could be the economic saviour of the region. Conspiracy theorists suggest that if we are too slow this will be another product that the western world will control and yet again the persons in the Caribbean will become slaves to those who have controlled the economy of ganja.
"Whatever you believe, this is clearly an important discussion and while we are prepared to facilitate the discussion and canvass views of the Bahamian population, this administration is not seeking to drive this agenda."
Dr Sands said global trends won't dictate the administration's marijuana policy.
"If you look at what's happening in the US, many states have not only decriminalised but legalised both medicinal and recreational use of marijuana but the federal government has not. You go further north to Canada they have an even more liberal view perhaps. But just because other countries are doing it and have done it, while we have to be mindful of what's going on in the world, at the point in time when this becomes an important agenda item driven by the population and the narrative, then I think we can advance with the debate as a civil society."
CARICOM's regional commission on marijuana was established in 2014. Its objectives include examining the social, economic, health and legal issues surrounding marijuana use in the Caribbean to determine whether the drug should be made more accessible. The regional commission will hold its first town hall in the Bahamas tomorrow at the Holy Trinity Activity Centre at 6pm to learn how Bahamians feel about decriminalising the substance.
Asked about his party's marijuana views yesterday, Mr Mitchell said: "The CARICOM process on marijuana which is now unfolding is one which was initiated at CARICOM with the support of the government of the Bahamas when the PLP was in power. We nominated Bishop Simeon Hall as our representative on the commission.
"We believe that having regard to the changing attitudes toward marijuana use around the Bahamas, the region and in the United States and Canada, there needs to be a study of the issue to provide guidance from our various peoples on which direction the law should take. We encourage all people to go to the meetings and air their views on this important subject. Someone from our party will attend. We are particularly interested in saving so many of our young men from the continued stigmatization of their lives and work because of marijuana use, and we are interested in any possible medicinal uses. The PLP believes in informed choices, thus our support for the CARICOM wide study."
According to statistics police provided last year, 1,346 people were arrested for matters related to marijuana in 2016. Of these, 799 were taken into custody for possessing the drug, 537 for possession with the intent to supply, eight for cultivating marijuana plants and two for possessing capsules containing marijuana. In New Providence, 3,766.64lbs of marijuana were seized by police while 95.35lbs of the drug were seized in the Family Islands.