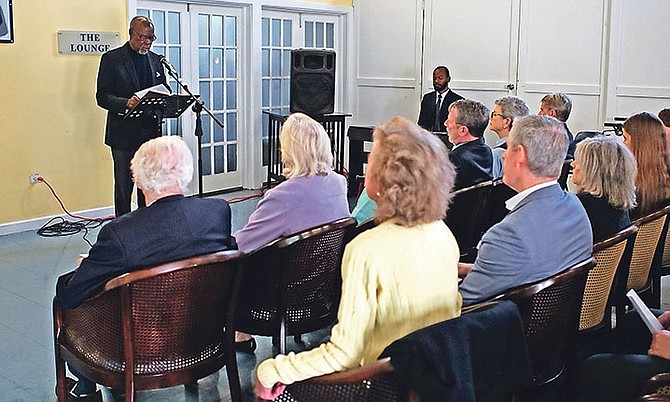 By Felicity Ingraham
When a man impacts his generation and the one after him, he is fondly remembered even after his passing. Such is the legacy of Sir Geoffrey Adams Dinwiddie Johnstone, KCMG. Scores of his admirers - those whose lives he touched - gathered at St. Andrew's Presbyterian Kirk on Saturday to witness the church hall be dedicated in his honour.
According to Rev Bryn MacPhail, the naming of the hall was being planned for months, even before Sir Geoffrey died on August 14 last year. But planning took time and did not come to fruition until this weekend. The Sir Geoffrey Johnstone Hall, says Rev MacPhail, will serve the community just as he did. It will serve as an historical reference, and snapshots of memorable times for the church are already being placed on the walls. A nursery currently exists in the building; and a large, open space with beautiful cathedral ceilings and windows will welcome community activities of all kinds.
Sir Geoffrey is credited with being a driving force behind the success of the Kirk in New Providence and its consequential branching out into Grand Bahama. Even without his physical presence, his impact was evident during the hall dedication service, as so many spoke with fond memories of a man who was described as "selfless", "honest" and "straightforward".
"We have a better church, a better community because of Sir Geoffrey and we will use this space to build up each other, as he would have wanted, to the glory of God," said Rev MacPhail.
Sir Geoffrey was born in Nassau, The Bahamas, in 1927, graduated from Queen's College, and served as a politician and attorney. An island boy at heart, his hobbies included boating, fishing and shooting. He served as an Elder of St. Andrew's Presbyterian Kirk from April 1963 until his death. In November 2010 at the celebration of the Kirk's 200th Anniversary, he was awarded for outstanding service to the Kirk and its mission.
Bruce Raine gave the official tribute to his uncle, referring to him as a "Christian before and beyond any of his life's many other callings".
"He never wore it on his shirtsleeves but it was evident in almost everything that he did - he had those virtues that one might expect from a disciple of Jesus Christ," Raine said.
"He was kind and generous, gentle and considerate, honest and very straight forward, unafraid to walk the lonely walk, if that is what he believed to be the right way.
Having been born in 1927, Sir Geoffrey's childhood would have ended when children in the Presbyterian tradition are confirmed and publicly affirm their faith, around the age of twelve to fourteen. World War II had begun just before his twelfth birthday and although far away in Europe at the time, it no doubt had a very sobering effect on everyone in the Bahamas, Raine told those gathered.
"At age 18 in 1945, Sir Geoffrey's father, Bruce Eric Johnstone, died unexpectedly, and this clearly had a profound effect on him, as on several occasions later in life, he would tell me that it was the worst thing that he had ever experienced. "
After Sir Geoffrey's death, his wife Anne discovered two things. One was a safety deposit box key for a box at the Royal Bank of Canada, which belonged to the Kirk, and the other was an original newspaper clipping noting his father's passing, neatly folded in a little box on his dresser.
"The newspaper obituary of his father, notes that The Reverend Dr. Bertram Maura would officiate at the funeral," said Raine.
"Having now taken possession of my uncle's personal 'Kirk' files and working through them for various pieces of information, it became clear to me that my uncle enjoyed a very long relationship with Reverend Maura, which I had previously been unaware of. Perhaps a symbiotic relationship, as Sir Geoffrey was Reverend Maura's Attorney and no doubt Sir Geoffrey got a measure of spiritual guidance from Reverend Maura."
In 1963 at age 35, Sir Geoffrey was ordained an Elder of St. Andrew's and served on the session for the remaining 55 years of his life. During the first five years of being an Elder, the city of Freeport in Grand Bahama had come to fruition and the then Kirk Minister, Reverend James McIan Jack, determined that a Presbyterian Church should be established in Freeport. Sir Geoffrey happily took up this mantle and with his several connections with Government and the law, the Lucaya Presbyterian Church came into existence in 1968.
"Although I have little first-hand knowledge of the one hundred and seventieth anniversary of the Kirk's founding, Sir Geoffrey led the charge in making this a noteworthy and successful event," said Raine.
"Some 30 years later, fast forward to 2010, although others were now doing the heavy lifting, Sir Geoffrey was still active on session and provided advice and guidance on that momentous two hundredth anniversary celebration. A number of Kirk Members and Elders, including Sir Geoffrey, were formally honoured for outstanding service to the Kirk, at a gala dinner at the Nassau Yacht Club."
"It is perhaps fitting that this hall was chosen to be a memorial to Sir Geoffrey. He often extolled the virtue of breaking bread together and in one context that would be Holy Communion, and in another it might be a family having a meal together, and certainly in the case of this hall, the annual Christmas dinners that Sir Geoffrey truly enjoyed. It gave the opportunity for the Kirk family and friends to "break bread together". He loved the comradarie, the sharing of food from various members' kitchens, and of course the traditional finale of carol singing. Of course, he had to be in the choir with best buds Sidney Brown, Bill Pinder, Marsha and Michael Stewart, Miffy Drumond, Bill Eyke, Davidson Hepburn, Connie Pearce, Gwen McDiegan, Hilda Barrett, Dennis Donaldson and all of those others who could carry a tune."
Sir Geoffrey's fellow Elder in the church Margaret McKinney recalled her friend as an "awesome man".
"He had vision and helped to move the church and the country forward with the help of Almighty God," she said.