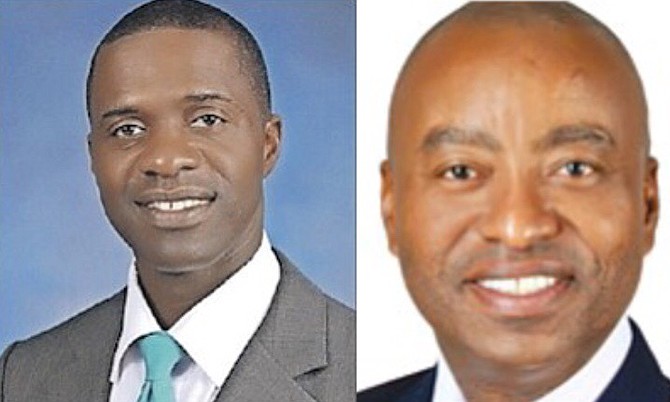 By RASHAD ROLLE
Tribune Staff Reporter
rrolle@tribunemedia.net
NO reasonable person can deny the Bahamas must scrutinise laws that criminalise people possessing small amounts of marijuana, Foreign Affairs Minister Darren Henfield said Friday.
Amid criticism of the government's approach to the issue, he and State Minister for Legal Affairs Elsworth Johnson emphasised on the sidelines of a closely watched marijuana town hall that to ensure the conversation about legalising or decriminalising marijuana persists, proponents of change must organise themselves to make the government pay attention.
Friday's town hall was organised by CARICOM's Regional Commission on Marijuana.
Like those before it, the Minnis administration has a conservative stance on marijuana and Mr Henfield's suggestion he supports some form of decriminalisation is a rare example of a sitting minister going on record with such a view.
"No one can argue against the position that to place a criminal record on a young Bahamian male in the prime of his life for having a joint is something that has to be examined, has to be looked at; no one in their right or reasonable mind would accept that without consideration," Mr Henfield told reporters.
"This country has a large population of young people. Sometimes young people get into things and do stuff that they regret later on. I know as young person I have. I have three sons. It's important for us to look at these things with deep consideration."
More than 200 people, mostly men, attended the town hall at the Holy Trinity Activity Centre; thousands more watched via online streams.
Attendees were greatly in favour of marijuana decriminalisation and legalisation, with only few of more than 30 speakers favouring the status quo. How representative the audience was of Bahamians' views at large was a question that lingered after the event. CARICOM, according to marijuana commission chair Dr Rose Marie Belle-Antoine, submitted a marijuana questionnaire for the government to publicly distribute to compile data regarding Bahamians' attitudes toward the substance, but it's unclear whether the government will conduct a survey to better ascertain public opinion.
Nevertheless, Dr Belle-Antoine said every country the commission has visited thus far has displayed overwhelming support for decriminalising marijuana in town hall events.
"My distinct impression is this is an important issue for the Bahamas, not just for the young people but from very many walks of life," she said. "How widespread it is difficult to say but I would say that if people who were really vehemently opposed were indeed that way they would come out and say so and they haven't, so I think that tells you there is a softening of attitudes in relation to marijuana."
Among the most significant concerns residents expressed was the country may be missing an opportunity to capitalise on an economic stimulus; that Bahamians are not allowed to benefit from cutting edge medicinal marijuana treatments; and that marijuana laws are enforced unequally, with poorer, black Bahamians likelier to be criminalised than wealthier Bahamians who go free even if caught with the drug.
McKenzie Van Hagen attracted applause when he took the mic and touched on such themes. "Coming from a white man's mouth," he said, "I'm curious how black and brown Bahamians especially feel that in Portugal, Amsterdam and Canada there are people who are going to be making millions and millions of dollars and if we stay in the past there is going to continue to be black and brown Bahamians locked up and having their lives ruined while white people are getting rich."
Some residents aimed their frustration at politicians, mocking the Free National Movement's (FNM) "it's the people's time" slogan as they accused the administration of preferring to ignore the issue.
"The PLP disappointed our young men; the FNM disappointed our young men and Chris Mortimer you better not try disappoint our young men," said Fayne Thompson, a lawyer and member of Citizens Against Prohibition – a Bahamas marijuana advocacy group.
"It's the political class who has to take the next step," Mr Thompson said. "Stop looking for Uncle Sam to say no."
To those who expressed concern that the marijuana debate will end now that the contingent of CARICOM representatives has left the country, Mr Johnson said: "It's for the persons here to get together as a group, to lobby government, to lobby other NGOs in the community and to carry the discussions on. There's freedom of expression. One thing my government and my prime minister is insisting on is that civil society becomes extremely active. That's how democracies survive, how they grow and evolve."
Mr Henfield expressed a similar view.
"I wonder if Bahamians want a government that dictates to them or one that is responsive," he said. "When you ask some of the leading members of society what their views are inevitably you hear we have not yet formed a view, we are waiting on the government to say something. I believe that laws should inform the needs of the society, should be responsive to the needs of the society. When Bahamians come together with any one cause, governments are forced to listen or they lose power. If this movement is as I see here tonight with very strong support government will be forced to listen so we look to what's going to happen in the future."
Mr Henfield could not say how likely the government is to adopt the recommendations of the commission's report, whatever they are.
Prime Minister Dr Hubert Minnis has not yet given his opinion on marijuana.
"When my prime minister is ready, I'm quite certain, wise man that he is, he will address it," Mr Johnson said as he pushed back against criticism that the government would prefer that the matter ends as a public debate.
"We've facilitated this meeting," he said. "There is work being put into this. At the end of the day the government may decide or it may not but that's not a question for me to answer."