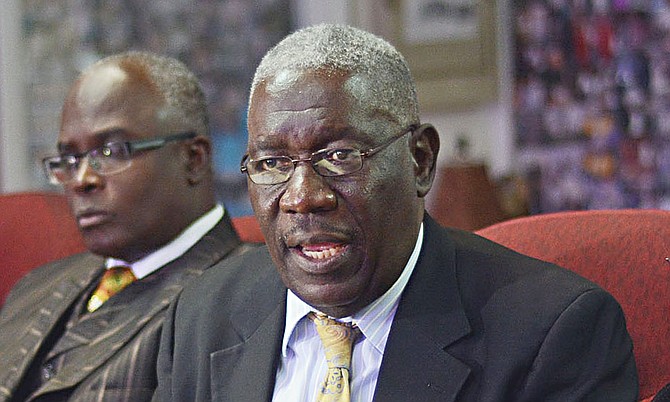 By RASHAD ROLLE
Tribune Staff Reporter
rrolle@tribunemedia.net
RETIRED Bishop Simeon Hall said he is a proponent of medicinal marijuana and has gained a greater appreciation for the benefits of its use since his appointment as the country's representative on CARICOM's Regional Commission on Marijuana.
"I have a deep appreciation for medicinal usage of marijuana than I had previous to coming to this commission," he said.
"Fred Mitchell put me on this commission before he left office. I started researching (marijuana). Besides that, I have a daughter who had brain surgery and she had to discontinue teaching . . . because she had brain surgery."
"She's at home now still recuperating, two years now. I'm now a proponent of medicinal usage of marijuana because I've heard enough that it does have some medicinal value; I have a daughter who is challenged and I'll do anything that I can to keep her alive."
On recreational use of marijuana, he said: "I was prejudiced but my only point though was pastoral that these young people shouldn't be criminalised for a little joint - I said that years ago. I think (recreational use) needs more management but I respect your right as long as it doesn't infringe on mine or somebody else's. It's like my thing on homosexuality, if that's what you want do in the back there around the corner, that's your business."
Bishop Hall's presence on the commission unsettled people during Friday's CARICOM town hall on the issue, with many assuming that as a religious figure his mind is set against marijuana legalisation.
When commission chair Dr Rose Marie Belle-Antoine said he was the country's representative, the crowd began to murmur.
"We need someone who represents the average person, that's all," Mario Woodside, an attendee who had the mic at the time, responded.
"I don't see why (people are against my participation)," Bishop Hall told reporters after the event. "I've been known for social activism, so anything that concerns people should concern me because I represent the church, I represent the kingdom of God and that's everybody. I'm saying whatever concerns God's people, concerns God and as a representative I want to be involved whether I'm on the panel or not. Once it concerns people you can look for me."
The town hall was packed with people who want marijuana decriminalised or legalised.
"I'm not sure if they have an appreciation of all the ramifications of that but I think the conversation should be ongoing," Bishop Hall said to reporters on the sidelines of the event.
Bahamian politicians have rarely expressed a progressive view of marijuana, but last week Progressive Liberal Party (PLP) Leader Philip "Brave" Davis told the Nassau Guardian medical marijuana should be examined.
Not everyone expressed a positive view of marijuana's potential during the town hall, however. One of the few women who spoke was Dr Petra Forbes, a doctor at Sandilands Rehabilitation Centre, who said marijuana worsens some psychiatric illnesses.
"You could have alcohol-induced psychosis or marijuana-induced psychosis," she said. "Sometimes the persons never come back to their baseline and it's sad when it's young people who have one weed brownie, who had one joint. And another myth, your joint don't have to be laced (sic). It could be in the purest form of marijuana and you could have a break."
However, Dr Lynwood Brown, a University of West Indies graduate, extolled the virtues of medical marijuana when he took the mic.
"The other aspects of marijuana use can be in a moot and can be put to the people, but medical marijuana has a multiplicity of good uses," he said.
"North America has licenced medical marijuana in 26 states and it has become a $14 billion industry. As a physician, my job is to do what the World Health Organisation (WHO) says, health is the state of social, physical and mental well-being, not merely the absence of disease or infirmity. We should not limit any medical expertise, any medical therapies that can be used for the benefit of health in the Bahamas.
"My learned esteemed colleague who works at Sandilands Rehabilitation Centre mentioned mental health illness; the Diagnostic and Statistical Manual of Mental Disorders or DMS-IV revised edition states that persons who are susceptible, marijuana can cause a psychotic event; the key word is susceptible. This susceptibility is seen in adolescence, persons who are under the legal drinking age in America of 21. I have no quarrels about having a restricted age use for use of marijuana but I'm here to speak about medical marijuana."