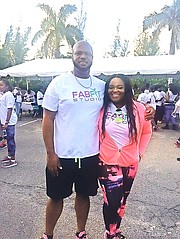 By JEFFARAH GIBSON
Tribune Features Writer
jgibson@tribunemedia.net
WHETHER you want to get in shape, maintain your weight, or just stay healthy, a local fitness studio is encouraging people work out with other like-minded individuals so as to better meet your exercise goals in the new year.
To this end, the husband-wife duo of Jamaal and Kryshanda Bethel has launched its new 'Biggest Loser Challenge'.
When they opened their Fab Fit Studio last year, they were on a mission to provide affordable, effective group and personal training services to women and men seeking a better body, mind and spirit. The studio provides a wide assortment of fitness classes catering to different levels starting as early as 5am and as late as 8pm. The studio also provides its members with workout clothes, accessories and homemade detox teas.
As an extension of its mission, Fab Fit is now hosting the 'Biggest Loser Challenge', a 30-day fitness programme which kicked off yesterday. Participants will undergo physical exercise and diet changes with a view to losing weight and becoming healthier overall.
"One of the biggest opportunities of Fab Fit Studios is having an increasingly health-conscious population and society. Recently, more and more persons are becoming conscious about their health and weight," said Mr Bethel.
"We decided to host the 'Biggest Loser Challenge' because there is a need for citizens to get healthier. No matter your size, gender, or age, Fab Fit Studios welcomes you. All customers of this business have similar objectives, whether it's to get in shape, maintain your weight, or just to stay healthy. We are expecting 30 to 50 persons to participate in the challenge. There will be up to four classes per day which should host about 15 persons per class. Participants will be challenged with various physical activities and exercises."
The Biggest Loser Challenge will start as a beginner level programme and gradually adjust based on the participants' increase in performance. There will be circuit training challenges, team challenges, and other activities to keep the programme fun and interesting throughout the four weeks.
Mr Bethel said a challenge like this will not only help individuals lose weight, but it will kick-start healthier lifestyle practices.
"Many times participants join a weight loss programme because they aren't motivated to start the a weight loss journey on their own. This programme was designed to help each participant stay motivated on their journey. With company, it is believed that persons can stay motivated for longer periods of time," he said.
To sustain the progress they make in the four weeks, Mr Bethel said there are several things that can be done:
"Participants can expect to lose weight, but not only that. They also will be taught about proper diet and exercise and maintenance of their weight loss. This can be done by several ways: exercising often, eating breakfast every day, eating lots of protein, weighing yourself regularly to remain conscious of your weight, being mindful of your carb intake, changing your mindset and being prepared for setbacks."
Mr Bethel also encourages people to write down their goals, remove junk food from their kitchens and pantries altogether, remain motivated even when the pounds aren't dropping fast enough, learn how to meal pre, and get your family and friends on board with your new lifestyle.