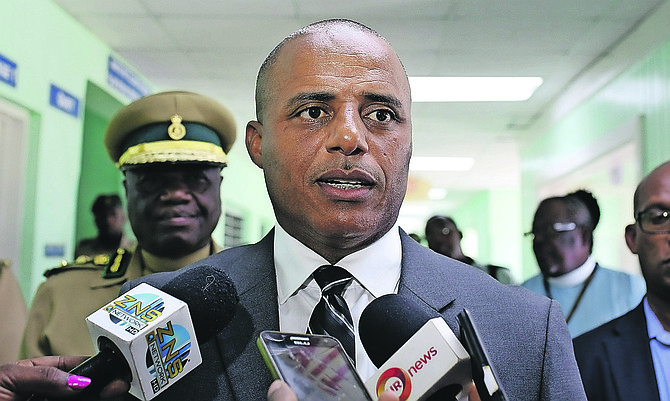 By KHRISNA RUSSELL
Deputy Chief Reporter 
krussell@tribunemedia.net
NATIONAL Security Minister Marvin Dames is "pretty confident" the Minnis administration will get a handle on crime following an "unusual" spate of murders recorded in Grand Bahama, marking the first three incidents in the country for 2018.
In response to this, Mr Dames said yesterday a team of law enforcement officials will visit the island with a view to looking at the root causes of violent crime to mitigate further homicides.
While there have been no murders in New Providence for the year, the nation's second city has recorded three - the victims all men who were shot to death in the span of less than a week.
Despite this grim, "concerning" prospect, Mr Dames said the government is confident its crime fighting initiatives will yield results, as he pointed to the last quarter of 2017, saying it showed a significant decline in homicide numbers.
However, overall homicides in 2017 were up compared with 2016. One hundred and twenty-three murders occurred in 2017, according to The Tribune's records, compared with 111 recorded the year before.
Meanwhile, Deputy Prime Minister Peter Turnquest, East Grand Bahama MP, said the violence points to the issue of gun prevalence in the country coupled with unfortunate anger and deviant behaviour from some young men in the country.
As these factors continue to contribute to murders, critics have used this as a springboard to castigate the government for its crime fighting plan.
Among these are Progressive Liberal Party Chairman Fred Mitchell who said on Sunday the government's crime plan is not working.
"It's quite unusual for Grand Bahama but what I'm happy to report is that for the first two homicides, the police have already turned a corner in respect to both of them and as a result of their investigations to date I believe they now are moving on a number of other outstanding issues having to do with those first two homicides for the year," Mr Dames told reporters ahead of yesterday's Cabinet meeting.
"So those two are pretty much cleared. (In) the third one, there is a suspect and the police very much have that matter as well in hand. Listen, it points to the challenges we face in the country. The police have already cleared all three of them. It's only a matter of getting the suspect in this last matter.
"We're always concerned about homicides. There is no doubt about it. We feel confident that our initiatives are yielding some results. As I pointed out, there is a significant amount of work to do. But if we look at the last quarter of 2017, there was a significant decline in homicides as compared with the first and second quarter of 2017."
He continued: "Are we resting on our laurels? No, not at all. We have a number of policy initiatives that we will continue to roll out as a government during the first quarter of 2018. One is our National Neighbourhood Watch Council. We have already completed all of the work in respect to that and we are just narrowing down on the launch date. Our Citizen Security Programme that was totally revamped, we're about to launch that in a big way and it brings together all of the key stakeholder ministries like labour and the Attorney General's Office, national security and education and youth and social services.
"And so we feel pretty confident that we are in fact on the right track we will continue to certainly put an effort in professionalising our law enforcement agencies and so we will introduce new technology. We will revamp training and we talked about the manpower audit for the police force and the (Royal Bahamas) Defence Force is currently underway and we expect to commence the corrections services very shortly. We are talking about the transformation of the corrections services - punitive to correction - and so what you expect to see in the upcoming months ahead is a transformation of these organisations that you would have never seen before and we are quite overdue for it.
"So in spite of those three homicides we are pretty confident that we will get a handle on it," Mr Dames said.
Speaking of the murders which have plagued Grand Bahama recently, Mr Turnquest said he was hopeful the events did not foreshadow a lingering trend.
He said: "We are obviously very concerned. I don't want to spread fear and panic. I think that these issues that arise from time to time are very unfortunate and certainly our hearts go out to the families that have suffered as a result of their loved ones being taken in such a senseless manner.
"I think this all goes back to the issue of the prevalence of guns, the unfortunate anger in our society, the deviant behaviour of some of our young men in particular and all we can do is appeal to them to recognise that they have a future that they have a place in this country that they can take their legal rightful role. There are better ways to achieve success than taking a gun in your hands."
Asked to respond to the criticism towards the government in light of the killings, Mr Turnquest said it was "disingenuous".
"Three young men have lost their lives and their families are suffering, now is not the time for this nonsense. The minister of national security and the commissioner of police have put forth their plan. It certainly will take time for it to take root and prove itself, but we believe they have put forth a credible comprehensive plan, which will extend out to Grand Bahama as well as to other islands of the Bahamas. I would only say give them an opportunity for the plan to take root," Mr Turnquest said.
On Saturday evening in Grand Bahama a man was shot dead near a popular restaurant in Port Lucaya, a tourist hotspot. The killing came two days after another man was shot dead in Grand Bahama outside a nightclub on Thursday night and five days after a father was killed outside his home in Freeport.