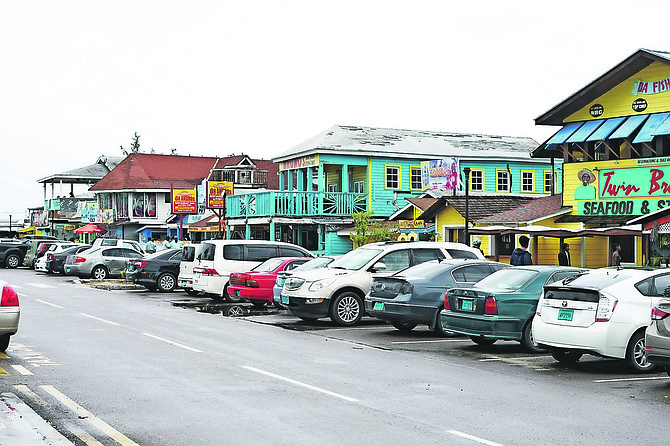 By AVA TURNQUEST
Tribune Chief Reporter
aturnquest@tribunemedia.net
and RASHAD ROLLE
Tribune Staff Reporter
rrolle@tribunemedia.net
THE US State Department released an updated travel advisory for the country yesterday, telling its citizens to stay clear of popular cultural restaurant hub the Fish Fry at Arawak Cay at night.
Tourism Minister Dionisio D'Aguilar told The Tribune the advisory was "odd and troubling," adding he was "at a loss" over why the State Department would opt to target the area given there is an on-site police station.
The advisory ranks the Bahamas at 'Level 2: Exercise increase caution,' stating that violent crime, such as burglaries, armed robberies and sexual assault are common, even during daylight hours and in tourist areas.
The State Department maintained its stance banning embassy personnel from visiting the Sand Trap in Nassau or using Jet Ski rentals on New Providence and Paradise Island; however, its latest warning strikes a major blow to one of the city's most popular cultural offerings, the Fish Fry.
In an interview with The Tribune yesterday, Mr D'Aguilar stressed there was no comparison between the safety enjoyed in the Caribbean with crime levels in major American cities.
"The Bahamas is a very safe destination if you consider in comparison with London or Chicago and New York," he said.
"Some 6.3 million (guests) come to the country each year. This is an important area for Bahamian businesses, this is the first I'm hearing about it (travel advisory).
"The Fish Fry is visited by many guests every year without incident," Mr D'Aguilar said.
"I would consider it a very safe place for our foreign visitors. I'm at a loss as to why they would specifically pick that out and in addition to that there is a police station there so the government has taken steps to ensure it's safe.
"It's very odd and troubling and I will investigate why."
Yesterday, vendors on the strip underscored the critical importance of both local and tourist traffic, expressing major concerns over the advisory's impact on eateries struggling to survive in the current economic climate.
Jason Burrows, proprietor of Deep Creek, called on the government to make an immediate intervention. The restaurant has been at Arawak Cay for 15 years.
"That's ridiculous, why would they say something like that?" Mr Burrows said.
"Arawak Cay is a place that tourists and Bahamians alike come out and enjoy themselves. I can't see the American embassy or any embassy in this country put out some kind of advisory like that because we're so small, this is a cultural spot and I would hope that the government and everybody would put a stop to all of the nonsense.
"We have small businesses out here trying to advance themselves, trying to keep people employed and trying to do the right thing, so when you hear things like this… this is what they are trying to do is stop us from making a living. And I think that's really poor."
He continued: "Nights are important, right now we're trying to do some other stuff out here, more cultural, to bring it together but we need help with people like the American embassy - if they would send more people out here and instead try to help us to make this a better place. This is the only cultural spot, so why do you want to put a black mark or a bad name on it?"
Mr Burrows acknowledged the area was not immune to crime or conflict, but said it was important to contextualise incidents as it was not representative of the business community.
In line with previous travel warnings, the State Department also advises its citizens to avoid the Over-the-Hill area.
"Violent crime, such as burglaries, armed robberies, and sexual assault is common, even during daylight hours and in tourist areas," the notice said. "US government personnel are not permitted to visit the Sand Trap area in Nassau due to crime. Jet Ski operators are known to commit sexual assaults against tourists, including minors. As a result, US government personnel are not permitted to use Jet Ski rentals on New Providence and Paradise Island.
". . .If you decide to travel to the Bahamas: avoid the area known as 'Over-the-Hill' (south of south of Shirley Street) and Fish Fry at Arawak Cay in Nassau at night. Do not answer your door at your hotel/residence unless you know who it is. Do not physically resist any robbery attempt."
The updated advisory came as the State Department launched its new travel advisory programme - a revamp of its Consular Information Programme - that retires travel warnings and alerts in lieu of a streamlined four tier-ranking system.
Level 1 and 2 countries are reviewed on an annual basis, unless there are special circumstances, according to Michelle Bernier-Toth, acting deputy assistant secretary for overseas citizens services in the Bureau of Consular Affairs, during a press briefing on the new advisories.
Ms Bernier-Toth explained that local embassies are authorised to provide host governments with an advance copy of the final travel advisory for their country - "if they thought it was important;" however, she noted host governments did not have the ability to change the language contained in the advisory.