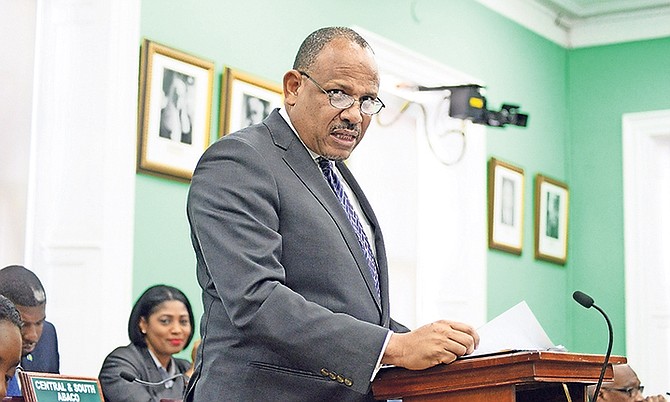 By SANCHESKA DORSETT
Tribune Staff Reporter
sdorsett@tribunemedia.net
HEALTH Minister Dr Duane Sands confirmed Tuesday that an additional tax will be introduced to fund National Health Insurance (NHI).
In an interview with reporters outside of Cabinet, Dr Sands said he has put pressure on the NHI board to come to the public sooner rather than later concerning the funding and execution of the health care initiative.
He also said NHI's budget has been slashed from $40 million to $36 million, after Prime Minister Dr Hubert Minnis made the decision for all budgets across the board to be slashed by 10 per cent this fiscal year.
When asked if a tax is the only way to fund NHI, Dr Sands said "yes".
"You may recall in the 2017-2018 budget, we allocated $40 million for NHI. What we suggested was $15 million for primary care, $15 (million) for catastrophic care and $10 million for the nuts and bolts of running the NHI Authority. Now we have made the decision that all of the budgets will be decreased by 10 per cent so instead of $40 million, we are looking at $36 million this fiscal year," Dr Sands sad.
"Moving forward we need to be able to tackle the problem of how NHI will be paid for. No one questions the benefits but how will we pay for it and also people what to know what can I get for my mommy or daddy who is struggling and so we want to be very specific.
"Paying for it means a tax because we are running a fiscal deficit and have been doing so every year since 1972. So any new benefit we will figure out where the new money is going to come from and it is going to mean that the Bahamian people are going to have to dig deep and find the funds. But also what we have promised is we will eliminate a lot of the waste in health care so they get value for money. We are nine days in and I am putting the pressure on my very competent NHI board to come to the public and say this is what we have to deal with. They have had some challenges ....the Bahamian public want it now and so we are going to continue to work so we won't have to wait. We have to see how quickly we can get this information because the Bahamian people deserve it."
Dr Sands said there are currently more then 30,000 people enrolled in NHI.
Last week Dr Sands said a long-anticipated legal opinion from the Office of the Attorney General complicated the Minnis administration's effort to create a NHI programme that fits its preferences and will likely limit the administration's ability to quickly accomplish its NHI goals.
As one of its first official acts, the board of the National Health Insurance Authority (NHIA) sought a legal opinion about whether the actions of the NHI Secretariat – established by the previous Christie administration – were legal and potentially binding.
This was because even before the NHI board was established and key provisions of the NHIA were gazetted, the secretariat entered into numerous contracts with residents and health care providers.
Nonetheless, the AG's Office has said in its opinion delivered to Dr Sands the secretariat's actions were essentially legal.
The NHIA board cannot make significant changes to the programme therefore without considering the legal and financial implications connected to the preexisting arrangements the NHI Secretariat entered into.