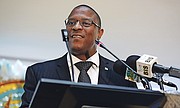 By RENALDO DORSETT
Tribune Sports Reporter
rdorsett@tribunemedia.net
MINISTER of Youth, Sports and Culture Michael Pintard said his administration is committed to a systemic approach to the development of athletics and Bahamian sport in general.
At the launch of the Flow CARIFTA Track and Field Championships Bahamas 2018, Pintard outlined his ministry's six initiatives.
"We believe athletics tends to produce elite athletes from small countries like the Bahamas that can compete with the best from around the world. We believe that athletics are important in providing educational opportunities for many of our young people and we intend, across all sporting genres, to encourage young people, to not only do well on the track, in the gym, but also to do well in academics to prepare them for the rest of their lives," Pintard said, "We believe athletics are important for recreational pursuits. It is important that the country is not exclusively focused on elite athletes because in the process what we end up doing is creating a population of observers who sit in the stands and unfortunately over time because they are sedentary they develop non communicable diseases because they are not exercising, they not engaged in recreation."
Under the theme "Faster Further, Higher" the North America, Central America and Caribbean Athletics Associations (NACAC) will stage the 47th edition of the meet, March 30 - April 2, held in honor of the late Dr. Bernard Nottage.
The meet is expected to host 26 countries, 500 athletes, 400 volunteers and some 150 local and international officials.
Events like the upcoming Flow CARIFTA Track and Field Championships Bahamas 2018 will spark development in other targeted initiatives centered employment at various levels, from administration to coaching and developing positive characteristics throughout Bahamian society.
"We believe they are many employment opportunities, income generating opportunities through athletics, so we want to encourage all of the associations, especially the BOC that has a crucial role in building capacity in the country and I know under the present leadership they will do an excellent job. It's important that we produce elite coaches who are able to travel around the world, not just work at home in terms of doing some remarkable things in building capacity, first in the Bahamas, to train the absolute best and then by extension around the world," Pintard said, "We also believes that athletics are important in developing certain attributes that grow a well rounded citizen. The discipline required for our young people at CARIFTA is a discipline required in all areas of their life, not just in preparing for athletic events. We have been promoting in the Bahamas, the importance of competing clean. It is a principle that is also important throughout the country that it is not only important what we do as a nation but it how we do it making sure that we put in place the right systems and processes and that there is ethical behaviour. If you are going to encourage ethical behavior in the government and private sector what better place to look than athletics so we see elite athletes who are emerging."
The Bahamas last hosted the meet in 2002 and has claimed the title four times - 1980, 1981, 1983 and 1984.
Tickets for the event are currently on sale ranging from gold - $20, silver - $15, bronze - $10 and general tickets $5. To purchase or reserve tickets, email carifta2018bahamas@gmail.com or call /WhatsApp the LOC at (242) 427-2580. For more information, you can also log on to cariftabahamas2018.com.
Flow has partnered with NACAC for the third year to host CARIFTA. As the official broadcast partner of the event, the meet will receive substantive viewership across the region.