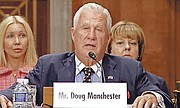 By KHRISNA RUSSELL
Deputy Chief Reporter
krussell@tribunemedia.net
THE hotelier who was nominated to be United States ambassador to the Bahamas will have to be re-nominated after the US Senate Committee on Foreign Relations sent his submission back to President Donald Trump last week.
The re-submission provision comes under a rule that can send back to the White House nominations that were awaiting approval at the end of each Senate session.
President Trump nominated Doug Manchester for the post last May.
It is not uncommon for Senate committees to send nominations back for re-submission or for them to take longer than one session to approve a nominee, according to The San Diego Union-Tribune.
The Tribune reached out to the US Embassy in Nassau on Tuesday for comment, but a formal statement was not received up to press time.
Last August, Mr Manchester caused controversy when he said the Bahamas was "for all intents and purposes" a protectorate of the US.
During Mr Manchester's confirmation hearing, New Jersey Senator Bob Menendez said: "In your conversations with the Senate Foreign Relations Committee staff, you described The Bahamas as a protectorate of the United States. Is that a view you believe is part of our relationship?"
Mr Manchester responded: "Well certainly, for all intents and purposes we believe that it is a protectorate. We have Coast Guard there, homeland security; we are obviously working with the Royal (Bahamas) Police Force which we want to infact continue to support, who are doing a great job in the interdiction in human trafficking, in drugs and also gun running."
Former Minister of Immigration and Foreign Affairs Fred Mitchell later said he found the comments offensive.
During the hearing last August, Mr Manchester also seemed to speak favourably of the newly elected Minnis administration, telling the panel "it really looks bright" in The Bahamas. He said officials stationed at the US Embassy in Nassau, including former Chargé d'Affaires Lisa Johnson, said this much in his discussions with them.
This was part of his response to a question from Republican Florida Senator Marco Rubio who asked Mr Manchester for his position should The Bahamas' support "waver" regarding its vote at the Organisation of American States (OAS) for democracy in Venezuela.
He said the Bahamas has consistently voted with the US for this cause.
"It's a new government down there with a new beginning," Mr Manchester said. "I salute their democracy. They have recently had a great election. New people are coming into power according to all of the people that I have talked to, including our chargé (d'affaires) and our existing embassy staff down there, that it really looks bright and as I said, the greater America becomes the greater benefit it'll be for the Bahamas."
During the hearing, Mr Manchester also insisted he was not anti-gay, as he expressed support for the lesbian, gay, bi-sexual and transgender community. Senator Bob Menendez had pointed to Mr Manchester's previous position regarding this issue, prompting him to state for the record that he was "certainly" in "support (of) gay and lesbian marriage".
In 2008, Mr Manchester donated $125,000 to support a ballot initiative, known as Proposition 8, blocking same-sex marriage in California, according to The New York Times.
The newspaper reported the hotelier "donated the money to support the collection of signatures to qualify the initiative, which would amend the state's constitution to prohibit same-sex marriage" for a vote later in 2008.