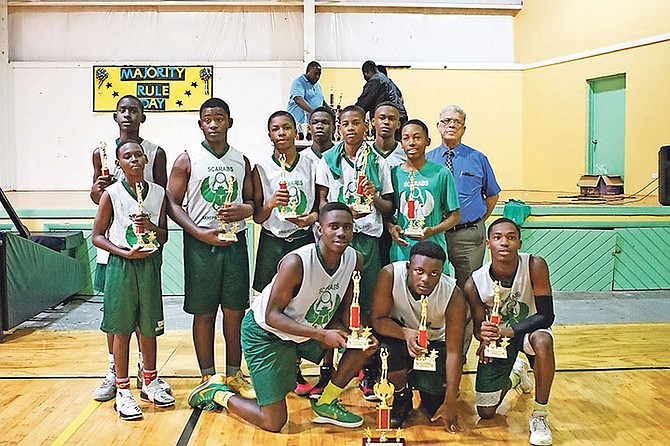 By BRENT STUBBS
Senior Sports Reporter
bstubbs@tribunemedia.net
Akhepran Academy completed a perfect run through the junior boys division as they successfully defended their title in the fifth annual Freedom Baptist Academy Majority Day Rule Basketball Tournament yesterday at the Anatol Rodgers Gymnasium.
Saving their best game for last, Akhepran routed Christian Heritage Academy 64-18 to take another title back to Bernard Road, Fox Hill. They were joined by the Temple Christian Suns, who captured two titles, winning the primary girls 23-4 over Freedom Baptist and the mini-boys 12-8 over their girls, while Teleos knocked off Temple Christian 22-4 for the primary boys' crown and Freedom Baptist held onto the junior girls' title with a 19-16 decision over Temple Christian.
The tournament concluded with Dr Gary Sweeting giving spirited closing remarks to the players on the importance of not just being a winner on their team, but more importantly on the winning team for the Lord, Jesus Christ. Sweeting, an assistant pastor at New Testament Baptist Church and the interim pastor of the Maranatha Baptist Church that he started in 1988, was one of the major sponsors of the tournament.
"We have to execute the plan. God has a plan for each and everyone of us in here today," he told the audience that included parents and family members. "Jesus has put the plan together. Now it's up to us to execute the plans for our lives. We need to follow God's plan."
He told them that if they know the Lord, they are on the winning team. For those that don't, he encouraged them to get to know the Lord before they end up on the losing team. He also advised the players that while some will go away as winners, others will go as losers, but they can continue to play and win until Jesus come back to reward everyone as they received their trophies from the tournament.
Sweeting was honored by the tournament, which included the father-son team of Pastor Vincent and coach Josiah Major and official Stanford Davis.
Summaries of the games played were as follows:
Akhephran Academy 64, Christian Heritage 18: Deniro Bowe exploded for 16 points and both Divinado Parker and Dacoda Johnson had eight points apiece to lead their impressive scoring attack.
However, Michael Johnson, one of the youngest member of the team, was awarded the most valuable player award. He contributed just three points, but was an inspiration to his team-mates on the court.
"I felt excellent. Some of my bench players stepped up and they performed exceptionally well," said Sanchez Moss, the head coach of Akhephran. "I told them we had a title to defend and they did just that, so I'm very proud of them."
While Moss said he got a motivational lift from the players of the bench, he didn't have to exert too much energy from the starters.
On the other hand, coach Emerick Taylor didn't have any answer for Akhepran's attack. He couldn't find the words either to describe what went wrong as they switched up their line-up throughout the game and ran a potent full court trap defense.
"I am trying to figure out the same thing. I'm trying to figure out where they went wrong," he said. "They didn't even come out playing. Everyone wanted to shoot three-pointers. Everyone wanted to be Step Curry and I guess it worked against them. I don't know what happened. I can't tell you what happened."
Sweeting, in his address, joyed that it have have had something to do with the t-shirt that Taylor wore with the words "Sorry I'm late, but I really didn't want to come." He said his team proved that because they "didn't put it together. So blame the t-shirt because I'm sure that they played better than what I saw today."
Christian Heritage was led by Israel Kelly with 15 points.
Teleos 22, Temple Christian 4: MVP Lovence Valcin canned all nine of his points as Teleos jumped out to an 11-3 lead at the half and they never looked back to snatch the primary boys title. Martin Butler added five.
In a losing effort, T Stubbs had three.
Temple Christian 23, Freedom Baptist 4: Danielle McCoy and Vienna-Maria Facey both scored four of their ten points in the first half as the Suns sprang to an 11-4 margin at the half and behind their six points each in the second half, went on to claim the primary girls' crown.
McCoy ended up as the MVP.
Taneisha Armbrister scored the only four points in the loss.
Freedom Baptist 19, Temple Christian 16: Even though it was a close encounter, the host team managed to maintain their 8-6 lead at the half to ensure that their triumph in the junior girls division would enable them to carry at least one title to their school in Palmdale.
MVP Aaliyah Henfield scored nine, six of which came in the second, including a three-pointer and 1-of-4 free throw.
Brijinique Wilson and Talianle Russell both scored five and Zoey Evans added three.
Despite not winning more than one title, Josiah Major thanked God for what transpired in the tournament that got started on Saturday.
"I fee;l that we could have gotten a few more teams to come in from the junior girls division,. We only had two," he said. "Since we started the tournament five years ago, we have had a weak showing from the junior girls. That is one thing that are trying to work on in the tournament. We want to get a lot more junior girls to compete in the tournament because we have a lot of good teams on the island."
Hopefully next year, Major said they would like to invite some of the teams from Grand Bahama to come and participate in the tournament to precipitate their travel to Grand Bahama to compete in the Gladstone 'Moon' McPhee/Geneva Rutherford Tournament.
Major commended Norleen Henfield, who took over and coached their junior girls team to victory after his sister and head coach Tabitha left town for Trinity Baptist College in Jacksonville, Florida to study for her Bachelor's degree in Elementary Education.
"We want to congratulate them on winning the championship," he said. "Our primary girls didn't make it, but they did a good job. I felt overall our teams did a good job, considering that we are such a small school with just about 100 students. I'm really proud of what they did."