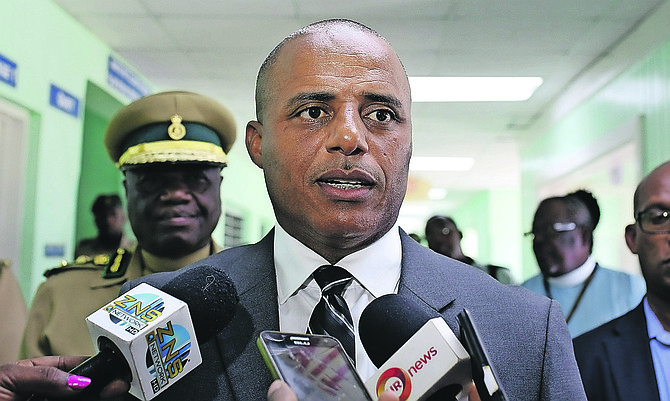 By DENISE MAYCOCK
Tribune Freeport Reporter
dmaycock@tribunemedia.net
NATIONAL Security Minister Marvin Dames has warned those committing murders would be caught and brought to justice.

His statement came in the week of three New Year murders in Grand Bahama of which Mr Dames said the government is aware of the issues of facing the island and has started taking measures to improve police crime fighting in 2018.
"We want to send a message to all those in Grand Bahama who continue to live a life of crime that we are unwavering in our efforts to find you wherever you hide and make you account before a court of law for your actions," he said last Friday during a ceremony for the new legal year in Grand Bahama at Central Church of God.
On January 1, Joel Augustine was shot dead in the Gladstone Terrace area. A few days later two other men - Kevin Roberts and Anthawan Simms - were shot to death in separate incidents on January 4 and 6, respectively.
Two juveniles appeared in Magistrate's Court last week in reference to the first two killings.
The minister said: "Certainly our hearts go out to the families of loved ones killed and while we are concerned at the level of violence especially at the beginning of this year, as national security minister I must commend the officers in Grand Bahama."

He told officers that the government is improving infrastructure and equipment to assist them in performing their duties.
Cabinet approved the purchase of a new $5.9m vehicle fleet, of which $2.3m will be acquired in this fiscal period for modern police cruisers, SUVs, T-3 Segways and ATVs to aid in curbing crime and violence.
Mr Dames promised the government would also improve working conditions of officers, particularly at the West End Police Station.
He stated steps are being taken to renovate dilapidated stations and other buildings where officers work.
He also explained that as a result of a police manpower audit they would be able to adequately staff officers on shift at the stations. He stressed it would also end prescribed promotion dates determined by politicians.
With regards to people trafficking, illegal drugs and guns, Mr Dames said Grand Bahama is used as a gateway for smugglers.
The government, he stated, will use a multi-agency approach in 2018, combined with intelligence capacity, skills and resources and continue to partner with regional and international counterparts against transnational organised crime which threatens the country.