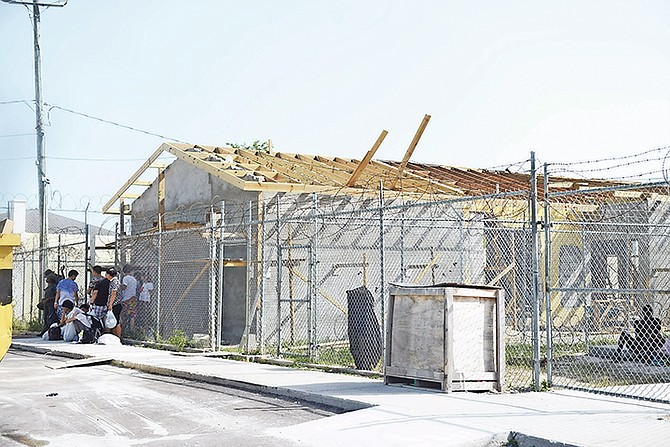 By AVA TURNQUEST
Tribune Chief Reporter
aturnquest@tribunemedia.net
FOR 16 days, newly-expectant Haitian mother Mirlene Corvil was detained at the Carmichael Road Detention Centre, pictured, where she claims she suffered daily from morning sickness and anxiety attacks in unsanitary, inhumane and degrading conditions.
The 25-year-old alleges her arrest and detention by Immigration officers for more than two weeks occurred even though she was awaiting a determination on her spousal residence permit and had entered the country lawfully.
Details of her ordeal are contained in an affidavit filed yesterday in support of her habeas corpus application.
"This experience was a sheer nightmare," her affidavit read. "I would not wish this on my worst enemy. I was a professional secretary employed to a radio station in Haiti and I never dreamt I would be subjected to that kind of treatment. I was never arrested before. I felt very disheartened that I was being treated as a common criminal and this was most horrifying to me.
It continued: "I cried myself to sleep every night. I could see the hatred and disdain for Haitians in how the immigration respondents spoke to us and how they behaved towards us. I felt disrespected and that hurt me deeply so I cried even more. I cried all day."
Ms Corvil, two months pregnant at the time of her arrest, is one of the 11 detainees released from the facility by court order last month.
Ms Corvil explained her initial affidavit was sworn on her behalf by Callenders & Co law firm's legal assistant Wislande Geffrard because she could not speak English, but is able to read and write the language.
Her affidavit read: "I spent 16 days in very unsanitary, inhumane and degrading conditions. For the first few nights I slept on a mattress on the floor. There was a sheet on the mattress but none to cover with and it was very cold. It was extremely uncomfortable to sleep on the floor especially being pregnant.
"... We tried our best to clean the dorm and we took turns, Haitians and Jamaicans to keep the place clean. No one knew how long we would be there so we had to make the best of our situation, despite how humiliating and horrifying it was. I could not stop crying."
While in detention, Ms Corvil said she feared she would be deported once officials at the CRDC discovered she had hired an attorney. She expressed concerns that she is now being victimized following her release because she has been unable to sign-in as ordered by the court for the past week; and fears that her spousal permit application will be declined as retribution for taking legal action.
In her affidavit, Ms Corvil states she entered the country legally on July 10, 2017 after her stepfather applied in Haiti for a visitor's visa. Her stepfather, a permanent resident, and her mother, who holds a general work permit, have been residing in the Bahamas for 10 and 15 years respectfully.
She explained she travelled to the country after a year-long courtship with Bahamian Tristian Rolle, 31, who proposed to her during her visit. The pair were married on August 3, 2017 before Pastor James Sweeting of Church of Christ, according to an attached copy of the marriage certificate.
At the expiration of her stay, Ms Corvil applied for and was granted an extension of her visitor's status to September 8, 2017. She said she visited the department to apply for a further extension but was told to return after the passage of Hurricane Irma.
Ms Corvil and her husband submitted their application for a resident spousal permit on October 13 and received an acceptance slip.
During an interview two weeks later, Ms Corvil claimed the immigration officer discontinued the interview after discovering her extension had expired and sent the couple to another floor within the building to another officer to first get a further extension.
However, she alleges the officer on the third floor confiscated her passport and told her to first purchase a return ticket to Haiti before coming back to the department.
Ms Corvil states her husband could not afford the ticket, so took up a fishing job to earn extra money for her to return to Haiti until the spousal permit was approved.
She alleges she was arrested by Immigration officers "for not having documents" on December 4, the same day her husband left for a fishing trip, even though she presented copies of her documents and her receipt from Immigration.
At the CRDC, she was taken to a dorm with 75 women, a number she claims dramatically reduced to 21 after a few days. She said she wore the same clothes and went without underwear for four days until she was able to have food and supplies sent to the Detention Centre by her mother.
Ms Corvil said she was unable to speak with her husband for the duration of her detention, which made her feel "hopeless, frustrated and terrified" because no one at the CRDC could speak Creole and were unable to communicate effectively with her.
She detailed poor quality food that smelled spoilt, clogged toilets and shower drains and a complete lack of privacy with open bathrooms.
Since her release, Ms Corvil said she returned to the CRDC on January 12 to retrieve her confiscated belongings: a handbag, belt, mobile phone, $250 cash and her clothes. However, she alleges her money was stolen from her bag while at the security post.
"I was deeply disappointed and angry because that was all the money I had. I could not believe after being deprived my personal liberty, my money was also stolen."
Ms Corvil and a dozen other migrants are challenging the legality of their detention at the CRDC.
Supreme Court Justice Gregory Hilton set bail at $1,000 and ordered them to report to the Department of Immigration once a week every Wednesday until their hearing on January 19.