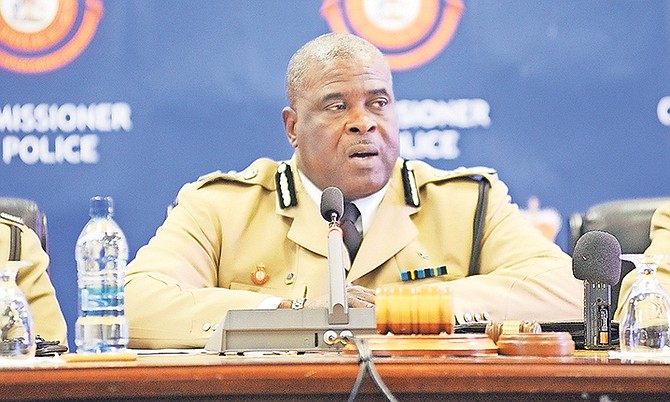 By KHRISNA RUSSELL
Deputy Chief Reporter
krussell@tribunemedia.net
OVERALL crime in the country declined by 14 percent in 2017 compared with 2016, according to Commissioner of Police Anthony Ferguson, however murders during this period jumped by 10 percent.
Commissioner Ferguson said police were challenged by "bolder" criminals, gang violence and retaliation killings which contributed to the increase in murders last year.
Still he touted the work of law enforcement, saying overall crime in the country is trending downward.
While unveiling the RBPF's crime statistics for last year, Commissioner Ferguson said in 2017 there were 122 recorded incidents.
New Providence recorded 104 murders, Grand Bahama 11, Abaco three and one each in Acklins, Bimini, Cat Island and Long Island, police said.
Twenty-six of these were retaliation killings, 27 gang-related, 15 classified as conflicts, 13 drug-related, seven related to robberies, 14 the result of domestic incidents and 27 had undetermined motives.
In 2016, there were 111 murders, the commissioner added.
The figures also show crimes in the Family Islands increased by six percent, mainly due to a rise in burglaries last year. In New Providence, there were increases in murder, manslaughter and unlawful sexual intercourse. 
The commissioner said preliminary figures for 2017 also indicate violent crimes across the entire Bahamas decreased by 20 percent and property crimes decreased by 11 percent.
There were 13 attempted murders, one incident of manslaughter, 52 recorded rapes, 11 attempted rapes, 146 acts of unlawful sexual intercourse, 575 armed robberies, 115 robberies and 16 attempted robberies in 2017.
In 2016, 26 attempted murders were recorded along with one instance of manslaughter, 71 rapes, 15 attempted rapes, 144 incidents of unlawful sexual intercourse, 783 armed robberies 175 robberies and 15 attempted robberies.
When crimes against property are considered, almost every category declined. Burglary decreased by 15 percent; housebreaking by 11 percent; shop breaking four percent; stealing six percent; stealing from a vehicle nine percent; and stolen vehicles 31 percent. This constituted a 14 percent overall decrease in crimes against property in 2017 over 2016.
These results, the commissioner said, represented a dent in crime and that police are on the right track.
He said: "With the help of almighty God, the hardworking officers of the Royal Bahamas Police Force, the general public and our international partners, the Royal Bahamas Police force was able to put a dent in crime as we ended 2017.
"Crimes in New Providence and Grand Bahama decreased by 14 and 26 percent respectively. Crimes in the Family Islands however increased by six percent. This slight increase in the Family Islands was mostly attributed to a rise in burglaries.
"With respect to the offence of murder, overall incidents slightly increased by 10 percent with 122 incidents compared with 111 incidents in 2016.
"However, when we analyse murder trends on a quarterly basis we notice some promising results. During the first quarter of 2017 murders were up by 33 percent. During the second quarter murders were up by 10 percent and in the third quarter murders more than doubled. However in the fourth quarter murders decreased by some 53 percent. More specifically there was only one murder in November and five in December. This decrease was meaningful as murders previously average about 12 per month.
"For the first time in a long time the Bahamian people can breathe a sigh of relief as incidents of this most heinous crime have begun to subside.
"Let it be known that despite the overall decreases in crime, we are still not satisfied with the current level of crime in our country, but while we feel very good and are encouraged by the positive results we observed last year - particularly during the fourth quarter - we'll not be side tracked, but will remain focused on our mandate," the commissioner also said.
In New Providence, three categories of crime remained at increased levels. Murders in 2017 increased by 17 percent with 104 cases compared with 89 in 2016. Manslaughter saw one incident last year compared with none in 2016, while unlawful sexual intercourse increased by 23 percent. There were 107 cases reported in 2017, while 87 were reported in 2016.
Attempted murder declined by 45 percent, rape 37 percent, attempted rape 17 percent, armed robbery 27 percent and robbery 35 percent.
Burglary, housebreaking, shop breaking, stealing, stealing from a vehicle and stolen vehicles also all trended downward at 23 percent, 7 percent, 10 percent, five percent, eight percent, and 32 percent respectively.
In Grand Bahama, almost all categories of crimes against the person declined except attempted rape. One incident of this crime was recorded in 2017, but there were none in 2016.
For the Family Islands, there was a 13 percent increase in crimes against the person.
The commissioner attributed the overall decrease in crime to a number of factors.
"We know that this was not a mere coincidence but the results of analysing trends, refocusing policing operations and getting valuable intelligence from members of the public, the operations of the Anti-Gang and Firearms Unit and the Rapid Response Unit which I established soon after taking leadership of the force. The flying squad and uniform divisions have also impacted murders as problems associated with gangs and gun activity will ultimately lead to murder.
"During 2017 there were a number of focused interventions that yielded positive results, including a major housebreaking ring, which was dismantled in the western district of New Providence. Traditional policing played a meaningful role in detecting this. The suspects were arrested, charged and convicted on many counts.
"We were able to seize 327 illegal firearms and nearly 10,000 rounds of ammunition from the streets. There were a significant number of drug seizures including over 17,000 pounds of marijuana as well as the discovery of marijuana fields with other 16,000 plants.
"Our increased use of technology such as ballistics examinations resulted in solving a number of crimes that involved firearms. We began testing body and dash cameras as we seek to increase the level of professionalism accountability and transparency. Discussions are also ongoing on a number of other cutting-edge law enforcement technologies, which will further assist us in our policy, response and detection."
The release of the 2017 crime statistics took on a slightly different form from previous years, as the commissioner's policing plan for 2018 was not released. Commissioner Ferguson said the plan was submitted to National Security Minister Marvin Dames, but he declined to reveal any of its details saying he did not want to do so in the event the minister had not yet gotten the opportunity to review the plan. He was unable to give a definitive answer on when the comprehensive policing strategy would be released to the public.
While Commissioner Ferguson would not detail his 2018 plan, he said it would be geared toward effective management, professionalism, optimising the use of technology and interacting with at risk youth. The plan will also focus on road safety and a continued prevention and reduction of crime.
He also said Bahamians can expect to see a high number of officers on the streets.
NOTE: This story previously stated that overall crime had declined by 13 per cent - that was incorrect. It has declined by 14 per cent.