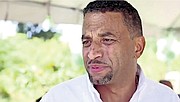 By AVA TURNQUEST
Tribune Chief Reporter
aturnquest@tribunemedia.net
FORMER Minister of State for Immigration Branville McCartney said yesterday inefficiencies at the Department of Immigration will play a significant role in the efficacy and humanity of the government's increased enforcement measures.
Mr McCartney, who served as junior minister in the last Ingraham administration, said he believed the current administration has well-meaning intentions in the area but underscored execution would remain severely hampered by the present backlog.
He was responding to comments made by Immigration Minister Brent Symonette, who told The Tribune efficiency at the department did not bear an impact on increased enforcement strategies.
At the time, Mr Symonette suggested any applicants for legal status apprehended by officials would be able to produce evidence they started the regularisation process, so they should not be subject to detention.
Mr McCartney said: "Before the policy was enunciated, I think the government must clean up shop within the department itself. The operation of the department is still very slow, there are many persons who made applications pursuant to the Constitution, they were born here, made the necessary applications and are waiting.
"I understand if you can show that your documents are in and all that," he continued.
"The practical problem is persons don't walk around with their applications and I have seen repeatedly where persons with their applications - they've been picked up detained and inconvenienced.
"I understand the government's position in terms of policy and trying to get those here illegally out of the country - that is what a responsible government ought to do - but at the same time you want to ensure the department is operating and functioning in a way to deal with that type of policy so it's not to the disadvantage to those who have a right or have applied for certain status."
Earlier this month, Mr Symonette said modernisation efforts underway at the Department of Immigration were progressing, but did not give a timeline on when a new computerised system will be fully rolled out. The high volume of permit applications was described as the greatest challenge faced by officials.
Mr Symonette, at the time, stressed there could be no excuse for the fate of unregularised migrants apprehended by increased enforcement measures, which he stated were already underway.
In August last year, Mr Symonette explained the inundated system is further exacerbated by outdated manual processing and limited physical capacity at the aging, rented complex on Hawkins Hill.
Mr McCartney said: "Even as simple as those persons applying for renewals, you have to wait months and months and months for a determination and I've had it happen where there have been persons working for me, waiting for their renewal. They have receipts yet still picked up and detained, resulting in loss of money. So the department has to get its act together."
"There's a lot of fraud (by applicants)," he said, "but there is still a lot of disadvantage to those persons who have a right to apply and their lives have been placed on hold, and they can't get a job, they can't travel, can't open a bank account or sometimes further their education.
"I do hope they get it together. I think the government's well-intentioned for the country, from an immigration standpoint, but like anything else it's getting it done and getting it done in a fair and humane manner."
Last year, Prime Minister Dr Hubert Minnis gave undocumented migrants a December 31, 2017 deadline to get regularised or leave the country. He warned aggressive apprehension measures would ensue.