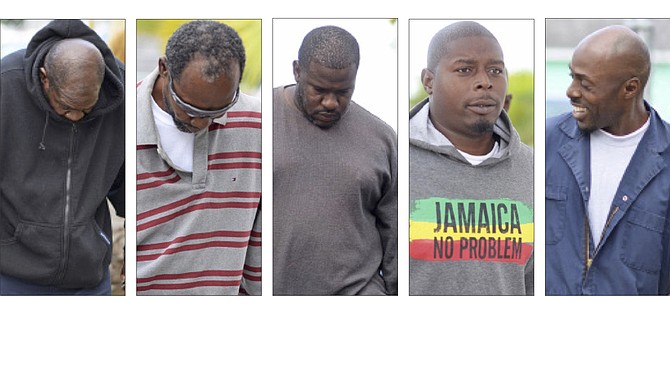 FIVE Ministry of Works employees were arraigned in a Magistrate's Court yesterday over allegations they conspired to and subsequently stole close to $1,500 worth of asphalt from their employer last year.
Ron Austin, Myron Smith, Kenley Saunders, Joseph Marshall and Dwain Campbell all stood before Magistrate Samuel McKinney charged with one count each of conspiracy to commit stealing by reason of employment and stealing by reason of employment.
It is alleged that on the day in question, all five men conspired to and consequently stole six tons of asphalt, valued at $1,489.98 from the Ministry of Works/Bahamix, which they had access to by reason of their employment.
All five men pleaded not guilty to the charges.
A March 6 date has been set for trial, though Magistrate McKinney adjourned the matter to today for a status hearing.
The five men were denied bail and remanded to the Bahamas Department of Correctional Services (BDCS).
Ian Cargill represents Campbell, Alex Morley represents Smith, while Keith Seymour represents Austin, Saunders and Marshall.