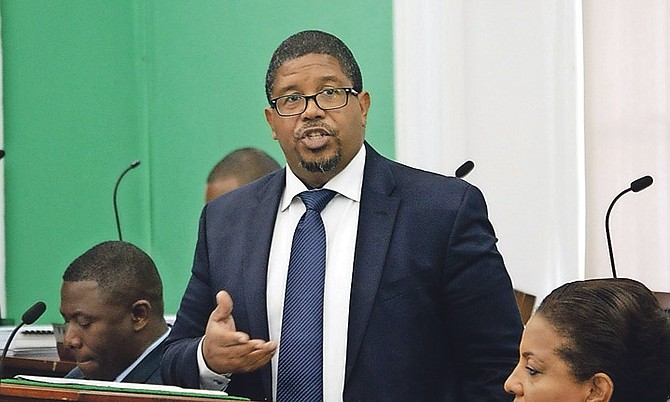 By KHRISNA RUSSELL
Deputy Chief Reporter
krussell@tribunemedia.net
DEPUTY Prime Minister Peter Turnquest said while Value Added Tax revenue is behind this quarter, the government fully expects the economy to pick up resulting in better VAT results.
Mr Turnquest explained that the lag was due to a sluggish economy and several other factors; however, he was unable to reveal the estimated collected figure.
He spoke to the media on the sidelines of the Bahamas Business Outlook at Baha Mar on Thursday.
The finance minister said: "From a government revenue point of view (VAT) is a substantial portion of the overall revenue government collects now.
"As you know the cost of governing has increased significantly over the last couple of years and until we are able to get that under control unfortunately we need that additional revenue in order to cover the expenses."
He added: "We all know that the economy has been a little sluggish for the last couple of years. In addition to that we have a number of circumstances that we are dealing with in terms of clarifying the applicability of VAT on certain industries on certain transactions that have caused some withholding of VAT payments. There are some credits that are due to some industries legitimately and so all of this has some effects."
Asked whether the government has found businesses to be non-compliant with VAT regulations, Mr Turnquest said this hasn't been much of an issue.
"No, not at all I think most businesses have been very compliant," he said.
"This is a sort of self policing mechanism. Not to say that there are not those who maybe escaping, but they will be found out in short order as we go through the processes of audits and verification.
"I don't think that that is significant in number although of course we are aware in any system there is no perfect system and so you will have some leakage but we're working diligently to plug those holes and to ensure that we have a robust compliant tax system," he said.