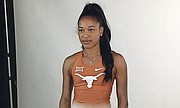 By BRENT STUBBS
Senior Sports Reporter
bstubbs@tribunemedia.net
IT was a mixture of professional and collegiate athletes in the spotlight over the weekend as Warren Frazer, Alonzo Russell, Katrina Seymour, Bianca 'BB' Stuart, Jyles Etienne, Pedrya Seymour, LaQuan Nairn and Brianne Bethel turned in some of the leading performances at various meets in the United States.
At the 2018 Clemson Invitational at the Clement University Indoor Complex, Warren Fraser had to settle for third in the final of the men's 60m that saw American Christian Coleman set a world record in 6.37. Fraser ran 6.60 also trail Tevin Hester, who was second in 6.57.
Fraser got second on his heat in 6.66 for third overall. Coleman had the fastest time in 6.47 and Tevin Hester beat out Fraser in their heat for second overall in 6.65.
Alonzo Russell from Grand Bahama led three men in the 400m as he posted the fastest time, winning his heat in 46.38 with a 200m split of 21.33.
Ojay Ferguson also won his heat in 47.39 and a split of 21.87 for fifth, while Cameron Parker got second in his heat in 47.62 with a split of 22.70 for seventh overall.
Parker had double duties as he placed second in his heat of the men's 200m for fifth overall in 21.27, just behind Hester, who cooled down for third in his heat in 21.08 for fourth.
Keanu Pennerman, a junior at Purdue, was fourth in his heat in 22.80 for 35th overall. Pennerman opened the meet with seventh in his heat of the men's 60 m in 7.07.
Katrina Seymour won her heat of the women's 400m in 54.99, but that placed her 12th overall. Kelsey Balkwill of the University of Windsor had the best time of 53.15. Seymour came back in the 600m where she was third in her heat in 1:39.12 for 20th overall. Madeline Kopp had the best time overall 1:27.46 for the win.
Keianna Albury advanced to the final of the women's 60m after she was second on her heat in 7.40 for sixth overall. Carmiesha Cox, a senior at Purdue, missed getting into the final after she was third in her heat in 7.47 for 10th overall.
Cox came back in the 200m where she was seventh overall in 24.11 after she placed third in her heat. Kentucky's junior Jasmine Camacho-Quinn, the winner of her heat in 23.27, was the overall winner.
Bianca Stuart picked up a second place finish in the last of two flights of the women's long jump with her best leap of 6.45 metre (21-2) on her fifth attempt. Chanice Porter beat her out with 6.54m (21-5 1/2) on her third attempt in the same flight.
Stuart also contested the women's Olympic Developmental 60m where she was fifth in her heat in 7.80 for 11th overall.
In the men's triple jump, Purdue's freshman Tamar Greene was seventh overall with a leap of 14.48m (47-6 ) on his first attempt. Bryce Williams of Penn State was the winner with 15.85m (52-0) that came on his second attempt to surpass Greene. The best that Greene could muster after that was 14.45 (47-5) on his fourth attempt.
Greene also contested the men's long jump where he was 18th overall with a beast leap of 6.66m (21-10 ¼). His performance came on his third and final attempt as he competed out of the first of two flights.
At the Gladstein Invitational in Bloomington, Indiana, Indiana's freshman Jyles Etienne won the men's high jump with the mark of 2.07m (6'9.5"). Etienne currently holds the No. 1 spot in the Big Ten rankings and the No. 5 spot in the NCAA rankings from his performance at the Hoosier Open (2.21m / 7'3").
At the Texas A&M Quadrangular at the Gilliam Indoor Track Stadium in College Station, Pedrya Seymour opened her season campaign in her new uniform as she clocked 8.36 for third place behind two of her Texas team-mates as Rushelle Burton, a sophomore won in 8.16 and senior Ariel Jones got second in 8.29.
She had the second fastest time of 8.34 to win her heat. Burton had the fastest time of 8.20 and Jones had the third fastest 8.36.
At the 2018 Simmons-Harvey Quad Meet at the U-M Indoor Track in Ann Arbor, Mi, Arkansas' sophomore LaQuan Nairn soared to victory in the men's long jump with a leap of 7.60 metres or 24-feet, 11 1/4-inches. His nearest rival was Ohio State's senior Zack Bazile came in second with 7.53m (24-8 1/2).
Tavonte Mott, a freshman at Ohio State, failed to finish the men's 60m hurdles in his collegiate debut.
Mott, however, bounced back and finished ninth in the 200m in 21.98 after he placed fourth in his heat.
At the 2018 Mark Colligan Memorial Indoor Track and Field Meet at the Bob Devaney Sports Center in Lincoln, Nebraska, Brianne Bethel captured the women's 60m title in a time of 7.37 as she improved slightly on her fastest qualifying time of 7.38.
And before she was done, Bethel picked up a second place finish in the 200m after she won her heat in 23.78. Morganne Mukes of Kansas won her heat in 23.35 for the fastest time overall.