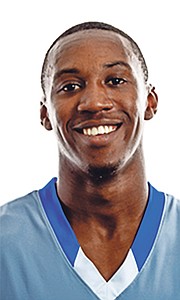 By RENALDO DORSETT
Tribune Sports Reporter
rdorsett@tribunemedia.net
JARON Cornish continues to produce solid numbers in his first season with the Stony Brook Seawolves in the America East Conference.
Cornish recorded his second double double of the season with 16 points and a season high 13 rebounds in Sunday's 53-51 loss to the University of New Hampshire.
He shot 6-14 from the field, including 3-6 from beyond the arch. "We definitely battled," said Seawolves head coach Jeff Boals.
"We didn't play smart in some stretches, but we were right there in it at the end of the game to give ourselves a chance to win and that's what you want on the road. We were up five at halftime, but they made their run in the second half to go up six.
"We kept chipping away and had a lead going into the final quarter. We had a chance to extend the lead but went 10-for-24 [from the line] and didn't do it. "
Since he struggled through 13 scoreless, foul-plagued minutes in a January 6 win over Hartford, Cornish has averaged 12.5 points per game in his last four. Prior to Sunday's game, he posted 15 points, six rebounds and five assists in a 77-66 win over Binghampton. He added nine points, five rebounds and three assists in a 73-62 loss to Vermont and 10 points, five rebounds and seven assists in a 78-65 loss to Albany.
Since the Juco transfer has been thrust into the starting lineup, he has been a bright spot for the 8-12 Seawolves and has posted averages of 10.5 points, 4.6 rebounds and 3.6 assists per game.
Cornish set a scoring career high on December 12 when he finished with 22 points in an 84-81 loss to Hofstra. He scored 18 of his 22 points in the second half to ignite the Sea Wolves offence, however their comeback effort eventually fell short.
He also dished nine assists and added four steals off the bench in 20 minutes in the Seawolves' 101-58 win over Shawnee State on November 29.
The Seawolves remain on the road this week, travelling to UMass Lowell on January 24.
The junior guard transferred to Stony Brook after completing two NJCAA seasons with the Broward College Seahawks in Fort Lauderdale, Florida.
As a sophomore, he averaged 18.7 points and 4.5 assists per game on 42 per cent from three-point range.
While leading his team in nearly every offensive category, Cornish was also one of the top players in the NJCAA and ranked in the top 50 Division I JUCO players in the nation in free throws made, made free throws per game, total points, steals and points per game.