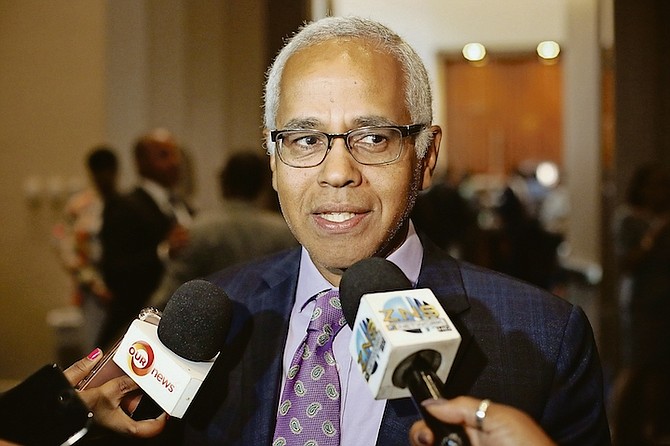 By Morgan Adderley
Tribune Staff Reporter
madderley@tribunemedia.net
IN the wake of yet another travel warning against The Bahamas, Tourism Minister Dionisio D'Aguilar is doubling down on his remarks that the country is a safe place for visitors, especially when compared to major American and European cities.
On January 19, the Canadian government updated its risk level for The Bahamas to "exercise a high degree of caution".
The advisory warned: "Crime, including violent crime, occurs mainly on the islands of New Providence and Grand Bahama. There has been an increase in muggings, armed robberies, home invasions and sexual assault targeting tourists in the cities of Nassau and Freeport."
When asked by reporters if he was concerned about the advisory, Mr D'Aguilar said: "I personally think that we are very hard on ourselves as it comes to crime. May I remind the public that 6.3 million foreign visitors come to our country each and every year? And yes, there are going to be a number of them that are victims of crime.
"But you know what? When I go to London, when I go to Paris, when I go to New York, I probably have just the same likelihood of being a victim of crime.
"But you know what we don't have here? I can walk down the streets here, I can go shopping, I can go to any tourist attraction, and I don't have to worry about a terrorist! (Nobody is going to) come here and blow us up!"
Mr D'Aguilar continued: "Or we don't have people like in the United States that come out and shoot out 50, 60, 70 people because they have the right to bear an arm.
"This destination, we have to start talking about what's good about this destination, not always sensationalising the one crime event here or the one crime event there."
Mr D'Aguilar also drew comparisons to other tourist destinations in the region.
He said: "I think we tend to linger on it too long, and we're hurting ourselves. Jamaica has a far worse crime situation, Mexico has a far worse crime situation, you don't see them issuing warnings about them.
"So, I think, by and large, 99.5 per cent of the foreign visitors that come to this country have a wonderful time. Have a sun-filled, fun-filled vacation, and are never victims of crime. Let's start talking about that."
Yesterday Minister of National Security Marvin Dames had a more muted response to the advisory. He told reporters: "Well every country has a right to put out travel advisories."
When asked if the advisory concerned him, Mr Dames said: "Well, it's always concerning. There's no doubt about it. It's always concerning. It's not the first time.
"And so after having said that, we continue to do what we need to do to bring those crime figures down and to make people feel safe."
Earlier this month, the US State Department issued an advisory to its citizens warning them to avoid visiting Arawak Cay at night. The State Department also advised against visiting the Over-the-Hill area.
In its advisory, the Canadian government warned its citizens: "Incidents of robbery take place in cruise ship terminals and in and around popular resort areas, even in daylight hours. If you are threatened by robbers, stay calm and do not resist."
The advisory also warned about incidents of sexual assault, opportunistic crime, and petty theft. It also said avoid consuming drugs and excessive amounts of alcohol, and not to accept rides from strangers or unlicensed taxi drivers. The advisory also warned visitors to be "wary" of Jet Ski rides with licensed or unlicensed operators.
Earlier this month, Commissioner of Police Anthony Ferguson said overall crime in the country declined by 14 per cent in 2017 compared to 2016.
While murders during this period jumped by 10 per cent, the commissioner said: "In the fourth quarter (of 2017), murders decreased by some 53 per cent. More specifically there was only one murder in November and five in December. This decrease was meaningful as murders previously average about 12 per month."