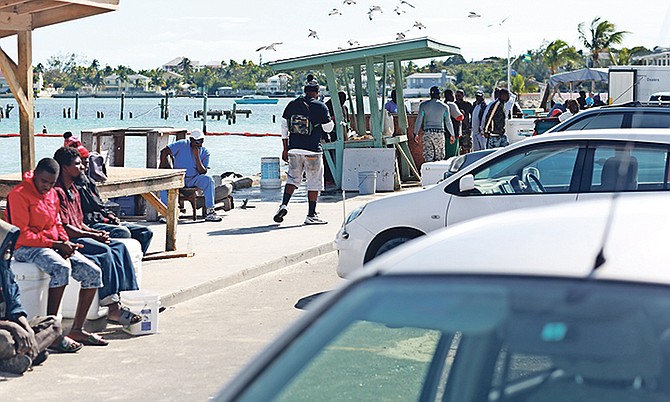 By MORGAN ADDERLEY
Tribune Staff Reporter
madderley@tribunemedia.net
CONCERNS have been raised that permits allowing the Nassau grouper to be sold year-round create a loophole that potentially allows the endangered fish to be exploited during the closed season.
The closed season for the Nassau grouper is December 1 - February 28. During this period, "no person shall take, land, process, sell, or offer for sale any fish commonly known as 'the Nassau grouper'…except where such taking or landing is carried out, with the written approval of the director of fisheries for scientific research purposes," the law states.
Fishermen are also sometimes given permits to sell frozen grouper caught and inspected before the closed season.
However, on Friday when The Tribune visited Montagu fish ramp with Casuarina McKinney-Lambert, executive director of Bahamas Reef Environment Educational Foundation (BREEF), the first thing fishermen touted was "freshly frozen" Nassau grouper.
According to BREEF's website, identifiable features of the Nassau grouper include "dark saddle shaped marking on the base of the tail" and "five olive brown vertical markings (bars) on a light body".
When pressed for information about when their fish was caught, the fishermen gave conflicting information. At first, they claimed that their Nassau grouper was caught three days before. Later, they said these claims were false.
A fisherman who identified himself as Dwight Davis, 25, said: "Everyone who sells grouper out here has a licence to sell it after the season is closed. (The government) actually gives them a permit -- you can catch (Nassau grouper) before the season is closed and put them in the freezer. So when the season is closed, you have grouper."
Another fisherman said: "If a fisherman wants to make a sale, the fish is already frozen. So some people will be like, 'oh, I want a fresh fish, I don't want no frozen fish.' So it's a scam to tell them the fish is fresh in order to get a sale."
Another man, 59, who referred to himself as a "jack of all trades", said that some fishermen indeed sell freshly frozen Nassau grouper, because the closed season only applied to Nassau, not "on the other Bahamian islands".
Edison Deleveaux, acting director for the Department of Fisheries, disputed these erroneous claims. He told The Tribune: "The law is evenly applied throughout the country."
Mr Deleveaux continued: "No one is supposed to be selling fresh Nassau grouper right now. As a matter of fact, Nassau grouper that is being sold, (is) grouper that would have been inspected, grouper that would have been caught prior to the closure and would have been inspected by fisheries inspectors.
"The permits you see are the permits that would have been granted after their catches or what they had on hand have been inspected and verified."
The Tribune obtained a copy of a permit, which is stamped and issued by the Department of Marine Resources. It reads in part: "Please be advised the you have been authorised to continue to possess the stated quantity of Nassau grouper, 800 lbs of the species with the aim of selling the resource during the closed season. It is, however, requested that you keep us informed with regard to your sales of the species during the closure."
Mrs McKinney-Lambert expressed concern that these permits create a "loophole" or a slippery slope that can result in the endangered fish being caught by unscrupulous fishermen even during the closed season.
She said: "It's such a tough thing because I love fishing myself, and I just want to make sure that my kids and everybody else's kids are able to continue to fish for this species and others for generations to come. So the closed season gives the Nassau grouper a chance to reproduce and make the next generation of fish.
"But having loopholes where you're able to sell it during the closed season makes it very difficult to enforce the closed season."
When asked about the timeline of the Nassau grouper possibly going extinct in Bahamian waters due to overfishing, Mrs McKinney-Lambert said: "We don't have an exact timeline but there are several other countries in our region that have completely lost the Nassau grouper. In Florida, it's gone. In Jamaica, the last time they saw spawning aggregation was in the 1970s.
"And populations have declined dramatically in many other countries in our region. So it's something that we want to be proactive in The Bahamas, and take measures to ensure that we have this fish for generations to come.
"The closed season is a tool to achieve that goal. But right now the loophole that is letting people sell Nassau grouper during the closed season undermines the ability to enforce this important law.
"Another important component is our network of marine protected areas, that are areas that are given special protection and contribute to our fishery by enabling fish to reproduce and then repopulate areas outside the marine protected areas where fishermen can fish."