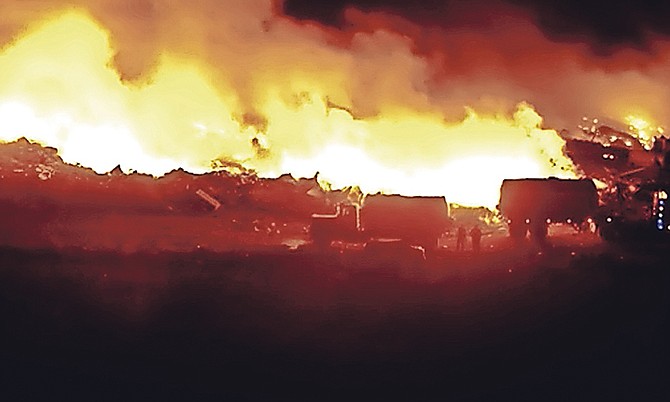 By KHRISNA RUSSELL
Deputy Chief Reporter
krussell@tribunemedia.net
AS a "contained" fire continued to burn at the New Providence Landfill yesterday – sending toxic smoke and fumes into the air – residents of nearby Jubilee Gardens expressed frustration over a situation that has become all too familiar for the city dump's neighbouring residential areas.
It was just last April when a blaze took place at the landfill, coming nearly three weeks after fire services tackled a massive fire there in March, which burned for nearly a month.
At one point, residents in Jubilee Gardens were forced to evacuate their homes as thick black smoke from that fire blanketed the community. 
This time, according to the head of Fire Services, Chief Superintendent Walter Evans, officials were battling flames in a contained area. He said no cause has been found yet because firefighters were still working along with crews from the Department of Environmental Health and heavy machinery operators.
The blaze began sometime before 4pm on Saturday, Chief Supt Evans said.
Several hours later on Sunday, The Tribune canvassed residents in Jubilee Gardens who questioned how many more times they would be subjected to "torture" before a resolution is found.
Rena Hudson, a resident in the low-cost housing subdivision for the last 10 years, said as successive governments have failed to find resolve, the time might be now for Jubilee Gardens to be condemned and its homeowners compensated and relocated.
She said it was sad that during the 2017 election campaign, there was a lot being said about the dump, but now that the political season is over, the issue has died down. Among the loudest to be heard at the time she said was Tall Pines MP Donald Saunders. However, she said she has not seen him now that the city dump is again on fire.
"What can we say? Here we go again," Ms Hudson said as she stood on the walkway of her home. "No results and there are no answers. During election time, you could hear everybody's mouth now you hear nothing. People are being affected.
"We have people dying. People are being diagnosed with cancer and you hear nothing. No solution. This is torture.
"Government after government and they know the situation, but yet you have not gotten one person, including this government, to resolve anything for the people of Jubilee Gardens.
"I personally have not seen Don Saunders," she added. "I cannot say for the others if he was in the area (but) I was home (and) I haven't seen him pass the area. So I can't say so. But one thing I can say is from the last smoke we had, we were told that they were going to bring a solution. I have yet to see it.
"We pay mortgages. We live in these homes with our families. It is sad to know that every day you come home you have to see it and now smell it.
"So, what should the people of Jubilee do?"
Ms Hudson said she remains hopeful the situation will not escalate to the same severity of last year's massive fire.
Last March, several residents poured water on their roofs, as the fire moved closer to their homes. Others were rushed to hospital complaining of respiratory complications.
The situation also led the National Emergency Management Agency (NEMA) to activate its emergency management plan and an evacuation shelter was established at the Kendal G L Isaacs Gymnasium at the Queen Elizabeth Sports Centre.
Another resident, Charles Walkine questioned the potential for major health issues because of the toxic fumes in the area seeping inside homes.
He said yesterday: "It could be hazardous for us especially with the wind right now. It's because the smoke is already changing direction and it will get into the house much easier. So it's really not a good situation right now especially with people who have asthma. My family members all have asthma, so this could be major.
"It's obvious that they haven't fixed this or found a resolution," the 10-year Jubilee Gardens resident continued. "The problem is still ongoing and it hasn't been remedied. With time of the year and with the wind we could see an increase. So they need to have a deeper look at what's happening there and try to see the best way they can bring it under control and alleviate it completely."
Allianne Bellhomme, another area resident, added that for the last seven years living in her home, she has constantly sought refuge at a nearby cousin's house to escape the smoke, which has sent her to hospital several times.
She, along with another resident who did not want to be named, said resolution for the situation has been slow moving because the people with power seem not to care that they continue to suffer.
Picewell Forbes, Progressive Liberal Party shadow environment minister, in a statement yesterday used the situation to tell the government "we told you so," adding it must put out the fire and fix the city dump forthwith.