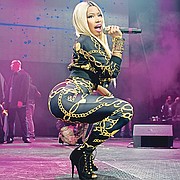 By JEFFARAH GIBSON
Tribune Features Writer
jgibson@tribunemedia.net
Thanks to celebrities like the Kardashians, Nicki Minaj and Amber Rose, not to mention the numerous Instagram models, big butts are now more popular than ever.
A big, round booty is for many a must-have to be attractive in this day and age. And while some women are reaching for vitamin syrups to hopefully gain weight and consequently achieve that much desired "junk in the trunk", others - even here in the Bahamas - are taking the more drastic route of plastic surgery. And if funds are low, they may seek out quick-fix, cheap solutions which can bring with them a plethora of health issues.
Speaking with Tribune Health, local plastic surgeon Dr Gregory Neil said he wants to remind Bahamian women that cosmetic surgery is still surgery with potential risks and complications, and therefore sufficient consideration should be given before choosing a procedure and a doctor.
Buttock implants and the potential danger associated with them were put in the spotlight in recent weeks when American R&B singer and reality television star K Michelle announced that she was having hers removed.
She paid tribute to her voluptuous butt, which she affectionately named "Betsy". In a playful retrospective video on Instagram she showed moments she spent twerking, with 'Betsy' as her a prized accessory.
Though light-hearted in nature, embedded in the deep caption that accompanied the post was the real struggle K Michelle had been facing.
The singer posted: "I will miss you and how my jeans fit. But I won't miss hopping into my jeans every morning. I won't miss my weight being so up and down that when I'm smaller you have me looking like a chicken drum stick. My a is already pregnant how could I ever handle carrying twins, also with all that weight my legs would give out. I'll miss you Betsy, but you also caused me inflammation throughout my body. No amount of beauty is worth your health. So everything has to be returned to its natural state."
K Michelle's implants which had caused her so much pain were successfully removed this month. In December, she openly shared this decision before undergoing the procedure on a segment of "The Real" television show, confessing it was mostly due to her health.
"For me, I've always been open. I've always been curvy, but it was never enough," K Michelle said. "I thought, 'I'm having trouble with men right now and maybe if I had a big ol' huge butt, then I'd get bigger love.' So that's what I did. I did butt, I did hips."
But her enhancements brought her more pain than joy.
"It's to the point where the aching and the pain that made me get checked for lupus, now it's down to my legs. My butt is so big that my legs are not holding it," she told the hosts of "The Real".
Finding a doctor to remove the implants was not easy. "People don't talk about it. I've gone to doctors who don't want to touch it. I've found one doctor who is going to do it for me. But imagine if you don't have the money to get it out," she said.
K Michelle is not alone in her suffering. Dr Daniel Del Vecchio, a leading expert in the field of buttock augmentation, said the complication rate after placement of butt implants is much higher than after placement of breast implants.
"About one out of three has to be removed for either infection, pain, or malrotation/malposition," he told The Plastic Surgery Channel.
Medical tourism
Though not everyone who has butt implants will endure the same painful fate, Dr Neil at Bahamas Plastic Surgery said it is still vital to conduct thorough research and open the lines of communications with the doctor doing the surgery.
There have been numerous instances of plastic surgery tourism horror stories shared by patients who travel to the countries where breast and butt augmentations are offered at discounted rates. Following their surgeries, many share photos and tales of botched procedures and life-threatening complications.
In 2016, US health officials warned about the dangers of medical tourism after at least 18 women from the East Coast became infected with a disfiguring bacteria following plastic surgery procedures they had in the Dominican Republic.
Dr Neil said plastic surgeons in the Bahamas cannot compete with countries like the Dominican Republic in terms of cost for various procedures.
"If I was going to see you today, have surgery on you tomorrow and then you are out of my life, I can afford to charge less," he said.
"But the cost of doing our surgery includes getting you ready for the surgery, getting it done in a patient-approved surgical suite that is regularly inspected. I am going to talk to you on my cell phone, I am going to talk to the person who is there with you. I am going to make sure your medication is right. I am going to meet with you two days before your surgery. That way, if there is a tiny problem we are going to nip it in the bud so that that tiny problem doesn't turn into a big problem. Then I will meet with you two to three days after the surgery, then three weeks, then three months, then six months, and most people by that time are flying by and forget they even had the surgery. But when you don't invest that kind of time with people, they tend to get stuck. So we make time for our patients."
For Bahamians considering a plastic surgery procedure in another location, Dr Neil said they should speak directly to their doctor, get educated about what can be expected and ensure the surgeon is board-certified.
"Speak to the doctor who will be doing the surgery, not the assistant or secretary, but the doctor; open the lines of communication. Also ensure that the doctor is board-certified, because board certified surgeons have been trained in an institution which is accredited. In order to become a member of American Society of Plastic Surgeons there is a pretty intense examination that reviews all of the training of the specialty and every 10 years it has to be renewed. So a surgeon like myself has to do a certain amount of credits in continuing medical education in order for my membership to be renewed. So board certification is not just a piece of paper, it is intensive and involves numerous exams and continuing education," he said.
The process
Dr Neil, who is a member of the American Society of Plastic Surgeons, heads Bahamas Plastic Surgery, a full-service reconstructive and cosmetic surgery practice on Montrose Avenue. It specialises in a number of procedures, including ear surgery, nose surgery, liposuction, injectable fillers, forehead lift, botox, fat injection and more.
But not everyone who walks through Dr Neil's door who wants a procedure gets one.
"Consider me as your investment banker who is going to make sure your money for rejuvenation is well spent. My job is not to take everyone that walks through the door and say 'let's do surgery'. Sometimes a person that walks through the door might be an OK or marginal candidate for surgery, but there are a couple things they can do to become an excellent candidate for surgery," he said,
"Somebody who might have a little extra weight they may be thinking about a tummy tuck. I might say, 'Right now you can't become a marginal candidate for surgery because if I do surgery I have to be careful because you are not as healthy as you could be. Your blood count is a little bit low. I feel like if we do this we get you into some cardio, improve your diet, get on a multivitamin, get you on grains and vegetables, then afterwards we would be able to see if you can be excellent candidate for surgery with lower risk'. That is my job."
Before any surgical procedure, whether it is a buttock enhancement, tummy tuck, breast augmentation or fat transfer, a thorough patient history is established first.
"Everyone who comes here has something in their brain that they want and they get a thorough history taken before we even talk about surgery. We find out if you are on any herbal medication that can cause bleeding, then we do a thorough physical before we start. You and I both will make a decision as to the best way to go to have a safe surgery with the lowest risk of complications," he said.
To avoid any complications, Dr Neil said he ensures his patients are properly prepped and have an action plan for when their procedure is done.
"I brought someone in months before surgery and had a chat with them. I told them the surgery is going to take two hours. After the surgery you have to go home and rest for two and a half weeks and you need help. Bring the person who is going to be your help along with you before surgery and I am going to talk to them and tell them what they need to know so that they can keep you out of trouble. But I feel for people who don't have that relationship with their doctor and end up with complications," he said.
At his practice, Dr Neil deals equally with reconstructive and cosmetic surgical procedures.
"Early in human history healers always wanted to be able to restore people, and not only to how they looked before the defect. The specialty of reconstructive surgery is about restoring form, but restoring function as well," he said.
"As a plastic surgeon I am not naive enough to think that everyone that comes in will have reconstructive surgery. Aside from reconstructive surgery, we do a lot of Botox, which is a way to tell the tiny muscles in the face to take a six-month vacation."
This procedure is the usually more popular among middle-aged to older persons whose frown lines are more visible than they would like.
"Many times when people look in the mirror they don't see the same person they feel they are on the inside. I have 60-, 70-, and 80-year-old people say to me, 'Doc, I feel so alive, energetic and my life is great. My relationships with the people around me are great. But when I look in the mirror the person in the mirror looks tired. What can you do?'
"A big part of plastic surgery is obtaining balance with the way we look and the way we feel," said Dr Neil. "And so sometimes an onlooker might say, 'Why would you want to change the way God made you?' And it is a reasonable question. But the big picture is more to achieve balance with the way people look and the way they feel. If I can perform a eyelid lift, a brow lift or a facelift that will rejuvenate your face and make you look like the person you feel inside…why not?"