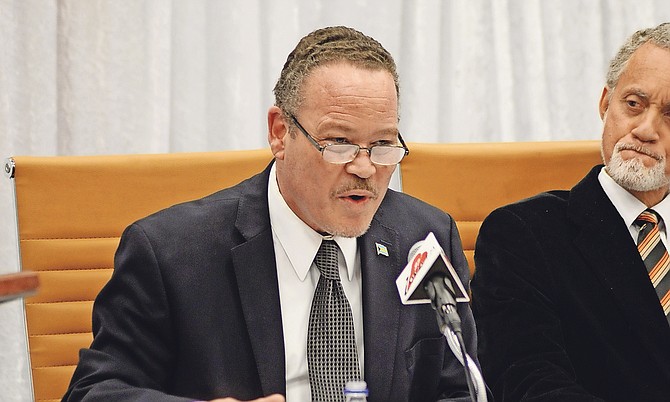 By RASHAD ROLLE
Tribune Staff Reporter
rrolle@tribunemedia.net
A TOWN hall hosted by the Bahamas Press Club last night highlighted how in flux the government's position on marital rape remains.
Attorney General Carl Bethel announced he will release two pieces of draft legislation addressing the issue as part of consultation exercises while also admitting the government could decide not to bring any legislation at all.
Mr Bethel avoided being nailed to a particular position on how the government will address the sensitive issue of sexual violence within marriage, emphasising now is the period for consultation, not for the government to declare its hand.
He faced the toughest questions from those who believe the administration is insufficiently minded to protect the dignity of women and to live up to international conventions, particularly the United Nations Convention on the Elimination of Violence Against Women (CEDAW).
The divergent views the government must confront was on full display last night, with panelist from the Bahamas Crisis Centre, Donna Nicholls saying the proposed legislation is too soft contrasting with Pastor Mario Moxey's view that criminalising sexual spousal abuse could have harmful effects on a marriage.
For his part, psychologist Barrington Brennen hit out at "spiritual leaders and followers" for being the loudest voices against criminalising marital rape.
"Spiritual leaders should be the ones who support and understand the sinister plans of Satan to weaken all of us, especially the family," he said.
"Nevertheless, they are being caught in the trap of foolish scriptural interpretations, negative Greek philosophy that have permeated the Western world, patriarchal stupidity and traditions that destroy, weaken and shame the family and women. The government should not allow that kind of influence from the church to sway them to change the wording of the law from rape to 'aggravated sexual abuse.' Rape is rape."
Earlier this month Mr Bethel told the United Nations Human Rights Council (UNHRC) in Geneva the government had drafted an amendment to the Sexual Offences Act to outlaw aggravated spousal sexual abuse. At the time he said although the proposed offence was not to be labeled marital rape, it had all the elements of the offence of rape in a marriage.
Last night he emphasised the reference to "spousal sexual abuse" was the drafters' attempt at compromise.
Confronted about this with references to CEDAW and other international commitments, he said: "It is a foolhardy government in this day and age that puts out a bill and says that's it, take it or leave it. The Bahamas is far too mature a democracy, particularly over the last ten years, for any government to feel - and you saw a good example of that in 2009 - for any government to feel they could put something down and say take that or leave it, because when society says, well they're not going to take and if you make us take it we'll send you a message, what does that government do, (it) backs right off?
"So government has no position right now; (we are) in the process of discussion, process of formation, process of getting views and hearing what everybody else is saying. At the end of the day really two bills could be put before the table for government to consider. One could incorporate as Ms (Donna) Nicholls said - but there would have to be as Pastor Mario said some other things changed or reworded - and the compromise could be put and then the government could arrive at some point at a decision.
"The government could also determine not to proceed at all. That would be when you have a government decision, when one of these things is decided around a table."
Mr Bethel's reference to Mrs Nicholls referred to her argument that contrary to the government's proposed draft legislation, all that is necessary is an amendment to be made to the Sexual Offences and Domestic Violence Act removing the words "who is not his spouse" from Section 3 of that Act so that rape could otherwise be defined as "the act of any person not under 14 years of age having sexual intercourse with another person... without the consent of that other person."
After last night's event, Mr Bethel told The Tribune he will circulate the draft bill he spoke about in Geneva and a second one based around Mrs Nicholls' proposal.