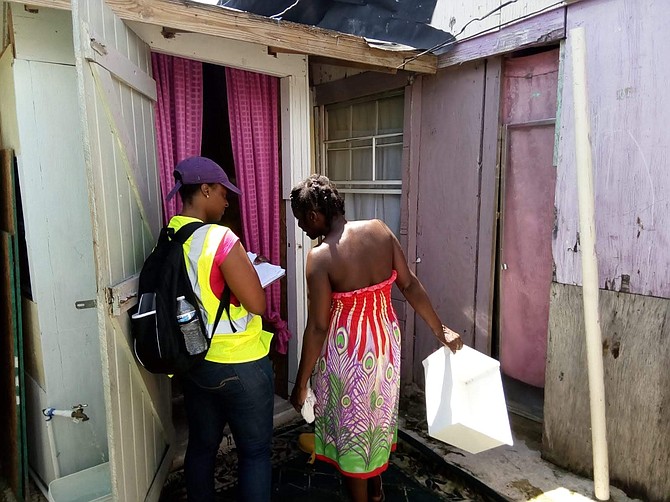 By RICARDO WELLS
Tribune Staff Reporter
rwells@tribunemedia.net
THE lack of available rental properties in Abaco could complicate the government's efforts to regulate several shanty towns on that island, Labour Minister Dion Foulkes has said.
Speaking to The Tribune shortly after the government's Shanty Town Action Task Force completed assessments there on Saturday, Mr Foulkes admitted that there could be some challenges ahead for the plan if suitable housing could not be identified.
Referring to some of the preliminary discoveries made by SATF on Saturday, Mr Foulkes said of adequate housing, consideration would have to be given to options that could "handle the persons we would displace".
"I am waiting on (the task force) to finish its report before I say anything else, we need to see exactly what types of recommendations they come up with to address this issue of a lack of housing," he said. "In New Providence, we don't have that problem, there are ample rental units throughout New Providence to accommodate all the residents from the 11 shanty towns there."
A 2013 report compiled by the former Christie administration noted that there were some 1,200 homes spread across The Mudd, Pigeon Peas and The Sandbanks communities. On Saturday, Mr Foulkes said he feared that number may have increased in recent years.
In addition to that, he said expansions in several other smaller communities around the island had now grown into major concerns.
The government has implemented a July 31, 2019, deadline for its regulation effort in Abaco. It has a July 31 deadline of this year for New Providence shanty towns.
Mr Foulkes told The Tribune: "We remain resolute with that date. So the residents in the Abaco communities – The Mudd, Pigeon Peas, Sandbanks and the Treasure Cay Farm Road – we have a year plus a month to complete the regularisation process.
"That is what it is. But, as I have said on record, the government is committed to have every resident living in these unregulated communities moved to regulated housing.
"On the average, that means an apartment complex in Abaco or New Providence," Mr Foulkes said.
Asked whether the government would absorb the cost for supplying affordable housing, Mr Foulkes insisted the government has no intention of "spending any money."
He said: "The government will not subsidise this process in any way; we are not spending any money to move these residents. All of the residents must move according to their own means and pay their own way."
Mr Foulkes said he was of the view that a large percentage of the residents that live in shanty towns could afford regulated housing if they were made available.
"Make no mistake about it," he said, "shanty towns are nothing more than a cheap option."
"A lot of the residents in these communities do work or earn livings in some form or another. These are legal residents, whether by spousal permits, work permits, permanent residency or citizenship; these people have the right to be here but are choosing these communities because they are relatively inexpensive and affords them a chance to support their relatives, family and loved ones back in Haiti."
He continued: "So that is why we have to be very systematic with what we are attempting to do. We have to provide the option of regulated housing; and encourage these residents to use them the way we are getting them to do so in New Providence.
"Many successive governments have attempted this, way back from the 70s, all have been unsuccessful. The prime minister, Dr Minnis and the Cabinet, we have the political will to make this happen and we will make it happen."
However, he maintained the central government has no plans to force its ideas and proposals on the people of Abaco.
"I want the ideas and solution for resolve to come from Marsh Harbour and throughout Abaco. We want to get their input and take it to government and to Cabinet for consideration. We want the ideas to come from the ground up, instead of central government dictating to Abaco how this problem should be resolved," he concluded.
Last week, officials in New Providence began issuing the first round of notices to shanty town residents, giving them the opportunity to show proof of their legal right to live in their residences.
Mr Foulkes said the next step, expected to start next week, will be another notice requiring people who do not have a legal right to live in their homes to move.