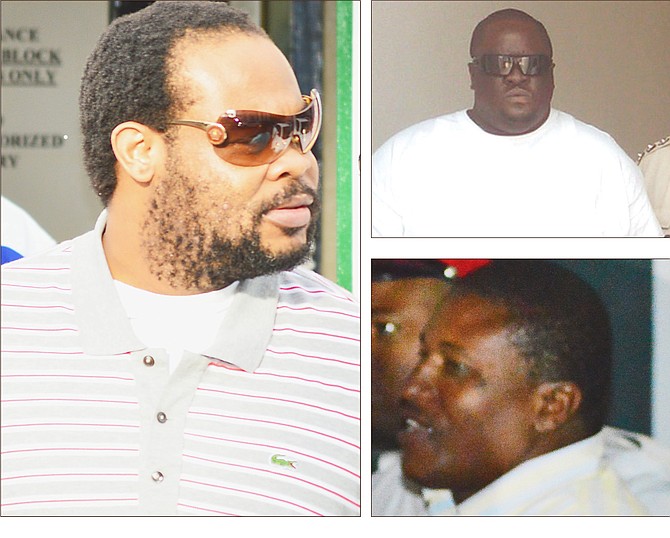 By NICO SCAVELLA
Tribune Staff Reporter
nscavella@tribunemedia.net
THE Privy Council has ordered a new hearing of Stephen "Die" Stubbs and two other convicts' appeal of their convictions and sentences for the murder of a policeman at a nightclub almost 20 years ago.
This country's highest court ordered that the appeal by Stubbs, Clinton Evans and Andrew Davis be remitted to the appellate court for a rehearing.
A statement from the Office of the Director of Public Prosecutions said the matter was remitted to the Court of Appeal to be heard before a differently constituted panel of justices. The statement noted that until such time as the new hearing takes place, the three men remain in "lawful custody" at the Bahamas Department of Correctional Services.
On March 29, 1999, Constable Jimmy Ambrose, an officer in plain clothes, was shot and killed outside the now-closed Club Rock Disco after a fight between two rival groups of men broke out.
According to the brief facts of the case provided by the Privy Council's website, Evans is said to have pointed his weapon at two other police officers as they chased him from the scene.
The three men were first convicted in May 2002, but their convictions were overturned on appeal. The second trial before then-Supreme Court Justice Jon Isaacs, who now sits as an appellate judge, was aborted on the first day of the summation of the case.
In a second retrial in July 2013, the three men were convicted of murder and attempted murder, while Evans was further convicted of two counts of possession of a firearm with intent to put another in fear. A week before sentencing, Crown prosecutors gave notice of the Crown's intent to seek the death penalty.
However, then-Supreme Court Justice Roy Jones, who also now sits as an appellate judge, ruled that the case did not meet the "worst of the worst" requirements for the death penalty, and even if it had, the Crown had failed to follow sentencing guidelines by giving notice of their intention in the specified time.
The men were ultimately sentenced to life imprisonment, on the basis that Sections 290 and 291 of the Penal Code (Amendment) Act requires that either a death sentence of life imprisonment be imposed where a police officer has been murdered in the execution of his duties.
Following the verdicts in the second retrial, the appellants appealed successfully against their convictions and, with the exception of Stubbs, their sentences.
Prior to the substantive hearing of the matter before Justice Isaacs and since departed appellate Justices Abdulai Conteh and Neville Adderley, Stubbs' attorney Murrio Ducille requested that Justice Isaacs recuse himself on the basis that the judge had presided over the second aborted trial.
However, the Court of Appeal refused Mr Ducille's application for recusal.