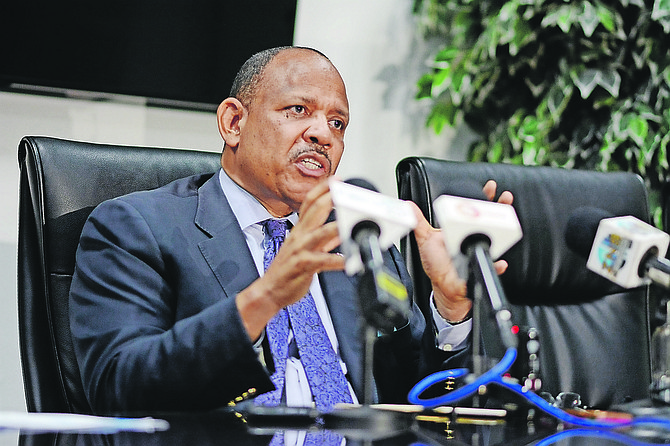 By Morgan Adderley
Tribune Staff Reporter
madderley@tribunemedia.net
THERE have been four confirmed cases of conch poisoning and as many as six unconfirmed cases, Health Minister Duane Sands announced yesterday.
According to Dr Sands, the exposure took place in the previous 72 to 96 hours with a number of the patients affected having eaten at Potter's Cay.
Noting that an outbreak of conch poisoning is something the country can "ill afford" right now, Dr Sands was adamant the issue can be easily mitigated if proper hygiene is maintained.
Four cases have been confirmed via laboratory testing but Dr Sands said there are a number of unconfirmed cases - "possibly as many as six" awaiting laboratory results. He added the affected people are being treated at both Doctors Hospital and Princess Margaret Hospital, and so far, all the self-identified patients are Bahamian.
Dr Sands said the steps to controlling the outbreak lie in proper hygiene and public and vendor awareness.
"Environmental Health teams (are speaking) directly with the vendors, not only at Potter's Cay but throughout New Providence and anywhere else that we may have reason to suspect possibility of exposure," Dr Sands said.
"We learned back in the 1990s that this is easily controlled if people practice very simple techniques of washing conch with fresh water. And that minimises, if not eliminates the possibility of transmission.
"And so we just redouble those efforts, and that combined with public education. So when you are eating your scorched conch or your conch salad, the question that you should ask every vendor, (is) 'did you wash that conch in fresh water?'
"And if the answer is affirmative, then you ought to feel reasonably comfortable that you can eat it. If the answer is not, then I wouldn't suggest that you do."
Conch poisoning is caused by vibrio parahaemolyticus, a bacteria which requires salt water to live. According to Dr Sands, when ingested, vibrio bacteria can cause watery diarrhoea, which is usually accompanied by abdominal cramping, vomiting, fever, nausea, and chills.
These symptoms often occur within 24 hours of ingestion and last about three days. He added that severe illness is "rare" and typically occurs in people with a "weakened" immune system.
The last major outbreak of conch poisoning occurred in the 1990s, around 1991 and 1999, Dr Sands said. He added that there were more than 1,100 cases of vibrio parahaemolyticus poisoning during that era.
The health minister was also adamant the issue is not with the conch meat itself.
"Vibrio is not an issue of the meat itself. Vibrio is a bacteria that ordinarily lives in seawater and is a part of the surface of the conch. The conch meat itself is not infected with vibrio parahaemolyticus. So you can wash it off. So, testing the conch meat itself is not the issue.
"We have learned historically that you can eliminate this problem by washing conch in fresh water. If you're washing the conch with vibrio containing water, you're not going to solve the problem. Even though the conch itself may appear clean on the surface. The way to get rid of the vibrio is to use fresh water."
When asked if any advisories have been given out at Potter's Cay, Dr Sands said the focus has been primarily on awareness thus far.
"We have alerted Environmental Health, we have alerted the Ministry of Health's teams, and now all of that activity starts, so that the same type of educational campaigns to remind vendors of the need for access and use of clean, fresh water, will start."
Dr Sands added that it would be "premature" to require any stalls to close.
"I think that's premature, because at this point, we would rather be pre-emptive as opposed to entirely reactive," he said.
"And given the fact that this is a preventable illness, that requires basic hygiene as it relates to conch preparation, I think there's no reason why…we will ensure that every single vendor is reminded of the requirement to wash the conch with copious amounts of fresh, clean water.
"And so the public having been notified now, the vendors being notified now, will allow us to put a lid on what's going on. And hopefully this remains just a blip as opposed to a significant problem with ill persons."