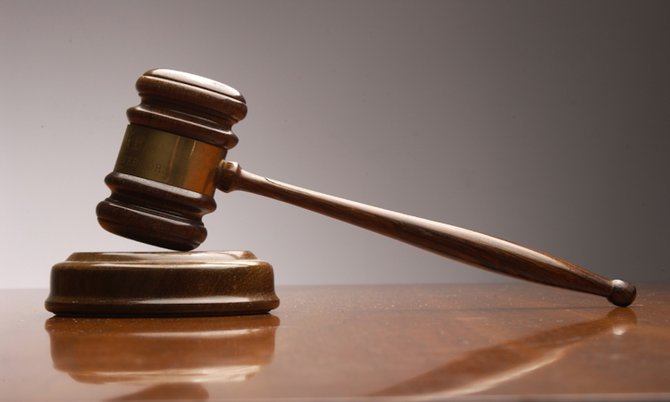 By NICO SCAVELLA
Tribune Staff Reporter
nscavella@tribunemedia.net
A Forensic Pathologist has confirmed that a 22-year-old man shot and killed by police in the Fox Hill area five years ago died from a single gunshot in the back, despite officers maintaining he was shot in the abdomen.
Dr Caryn Sands, taking the witness stand before Deputy Coroner Kara Turnquest-Deveaux, said Tarique Fowler died from a single gunshot wound to the back following the fatal June 7, 2013 encounter with several officers.
According to the evidence led during the inquest, the bullet travelled from Fowler's back to the front of his body, exiting at the ventral side of the young man's genitals.
That, however, contradicted the initial police reports of the matter, particularly that of Corporal 933 Kyle Capron, which maintained that a male, later identified as Fowler, had sustained a shot to the abdomen, specifically the front-right lower abdomen.
Additionally, according to the reports of Corporal 405 Adrian Miller, the officer who fired the fatal shot; Detective Constable 2609 Maurice Arthur; and officer 5026 Miller, Fowler was shot whilst running towards them, and after being ordered to drop a firearm he was brandishing.
However, Cpl. 405 Miller's attorney, K. Melvin Munroe, noted in his closing submissions that Dr Sands' report said Fowler died from a gunshot wound to the "torso", while the death certificate listed the cause of death as a gunshot wound to the back.
Additionally, Mr Munroe said when interrogated in court, Dr Sands said "back" to make a distinction from the front, and wasn't necessarily meaning Fowler's actual back. He also noted that Dr Sands said she also could have said "the pelvis".
Mr Munroe also noted Dr Sands saying she made a mistake on the report, that the shooting was not at close range. He said Dr Sands also said she could not determine the position the victim could have been in when he was shot.
Additionally, Mr Munroe noted that Cpl. 405 Miller was not the only officer to shoot at Fowler on June 7; Police Constable 478 Knowles also fired a single round at Fowler, according that officer's initial report.
However, Mr Munroe noted that while both officers discharged their weapons on the date in question, and notwithstanding his client being the interested party in the proceedings, there has been no evidence led during the inquest to confirm which officer fired the fatal shot.
Cpl. 405 Miller's initial report stated that he, along with DC Arthur and LC 5026 Miller, received information concerning a group of males in the Bernard Road area opposite the Government library, all armed with firearms and planning a gang retaliation and initiation.
As a result of that information, they contacted Police Control Room requesting assistance from other police units. The crew of Detective Assistant Superintendent Butler and other officers, along with a K-9 unit with Cpl. 933 Kyle Capron and DC 478 Knowles were all briefed on the matter.
The officers then proceeded to the area, and Cpl. 405 Miller, DC Arthur and LC 5026 Miller entered a bushy short-cut area off Fox Dale and travelled north-east. While there, Cpl. 405 Miller said he heard one single shot and observed two males running towards him.
The male in the front was wearing a white striped shirt and blue jeans, and was also brandishing a black firearm in his right hand.
After shouting "police, drop the gun", Cpl. 405 Miller said the suspect raised the firearm and pointed it in the direction of him and the other officers. As a result, he said he became in fear for his life and subsequently fired one single shot in the direction of the male, who consequently fell to the ground.
The firearm fell nearby and the male made attempts to retrieve it. As a result, Cpl. 405 Miller said he quickly ran towards the male and removed the firearm—a black Hi-Point 9mm pistol with eight live rounds of ammunition.
DC Arthur's initial report mirrored Cpl. 405 Miller's report, as well as that of LC 5026 Miller, though the latter's didn't mention anything about the suspect trying to retrieve the gun after being shot.
However, both Cpl. Capron's and PC Knowles' reports differ from that of their colleagues, particularly the latter's.
While PC Knowles' initial report coincides with that of Cpl. 405 Miller's and LC 5026 Miller's as far as receiving information about a group of males planning a gang retaliation and initiation, it claims that upon the officers approaching the group of males, one of them, purported to be Fowler, stands up, pulls a gun out of his waist and points it in his direction.
PC Knowles' report says while he was in fear for his life and that he consequently fired a single round in the suspect's direction, it makes no mention of Cpl. 405 Miller also shooting at the suspect, or shooting at anyone for that matter.
Additionally, PC Knowles' report states that after he fired the shot in the suspect's direction, the suspect then ran to the rear of a residence through nearby bushes along with a "heavy built male" wearing a white t-shirt and blue jeans, as opposed to falling on the ground as stated in Cpl. 405 Miller's and LC 5026 Millers' reports.
After that, PC Knowles reported that he heard what appeared to be a gunshot from the bushes where the suspects ran. He then went in that direction with K-9 Falco where he came upon both suspects lying on the ground.
Cpl. Capron's report mirrors that of PC Knowles, however, Cpl. Capron's report mentions him observing the armed suspect suffering from "an apparent gunshot wound to the abdomen", while PC Knowles' report does not.
However, testimony from Kenyon Symonette painted an entirely different picture of the events that transpired on the date in question.
Symonette said that he, Fowler and others were sitting where the officers said they were sitting on the road. He said he saw when an officer with a dog approached them, and said he also saw another two police officers pulling up.
As a result, Symonette said he decided to flee, the reason being because he had some outstanding traffic warrants and he did not want to be held and questioned on those.
Symonette said as he moved to flee into the shortcut, he noticed from his peripheral vision that Fowler was behind him. However, as they were running, Fowler eventually overtook him.
Shortly afterwards, Symonette said the two ran into two police officers. He said he saw when Fowler put his hands in the air and got down on the ground on his stomach.
Afterwards, he claimed he saw a dark, heavy-set officer with three freckles on his face walked up to him and said "get down with your fat ass. You look like you want get shoot".
Symonette said as he was getting down, and after putting one knee on the ground, he heard a single gunshot. Afterwards, he heard officers asking for Fowler's name and date of birth. Symonette said Fowler answered but was gasping and sounded weak.
Symonette said the officers asked Fowler for his name and date of birth again and his answer sounded weaker that time.
Symonette said he also heard when one of the police officers said "f*". He said he saw no injuries on Fowler before he got down and said he never saw him with a gun.
Symonette said he was eventually taken into custody with the others, held at Fox Hill police station before being taken to CDU where he was questioned. Symonette said he made it seem as if he was not around when Fowler was shot for fear that officers would either kill him or 'lose him in jail'.
On Friday, Christina Galanos, the attorney for Fowler's family, submitted that the officer's claims "defy common sense and logic", and further charged that their evidence defies "science" and the expert opinion of Dr Sands.
She further charged that based on the officer's reports and their evidence in court, their depiction of the events that transpired on the date in question "simply does not make sense".
She also questioned the particulars of PC 478 Knowles and Cpl. 933 Capron's reports, which suggested that as those officers approached Fowler and the other persons he was with, Fowler "randomly" got up and pointed a gun at PC 478 Knowles.
Ms Galanos also noted that all of the officers were armed with 9mm during the incident in question, but said "coincidentally", the officers claimed Fowler also had a 9mm gun.
Thus, she said, it doesn't take "much of an imagination" to figure out where the gun in question could have come from.
In making his closing submissions, however, Mr Munroe called on the jury to put themselves in the shoes of the officers at the time of the incident, and asked them to ponder what their actions would be if faced with the same issue.
In view of the officer's evidence, Mr Munroe also asserted that based on the country's laws, any citizen, including the police, confronted by a person with a firearm can defend themselves and their life in a manner equal to the threat with which they were faced.
"The police, they're not above the law. But by no means they are below it," he said.
The inquest continues.