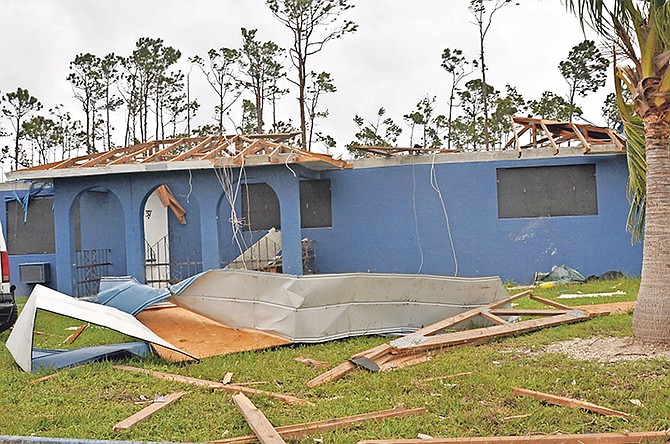 By DENISE MAYCOCK
Tribune Freeport Reporter
dmaycock@tribunemedia.net
THERE are not enough hurricane shelters on Grand Bahama, and a Grand Bahama MP believes it is time to move beyond makeshift shelters at churches, high schools, and gymnasium facilities.
In March, a NEMA official in Freeport reported that the buildings designated as shelters are not "up to par" and in need of repairs.
All eyes are on Hurricane Beryl, which is officially the first Atlantic hurricane of 2018. It is currently tracking westward through the Atlantic Ocean.
"We do not have enough shelters for the island of Grand Bahama; we are in need of shelters…," said NEMA warehouse manager Tammi Mitchell during a special radio show on hurricane preparedness which aired in late March.
"The shelters are going through lots of challenges; our primary shelters are high schools and gymnasiums; everyone has heard that they are not really up to par. They are all we had to use for many years, despite the challenges they have."
"We still have to use them, unfortunately. Some repairs are needed, and we are hoping we can get those done to those buildings. And hopefully, they will be able to be deemed necessary shelters."
Ms Mitchell also noted that some of the churches have opted to be removed from the list of shelters.
Iram Lewis, MP for Central Bahama and parliamentary secretary in the Ministry of Works, was also a guest on the show and said it is time to build multi-purpose buildings that can act as hurricane shelters.

"We learned a good lesson based on what happened in Ragged Island when we had to move the entire population to New Providence," he recalled of the evacuation of Bahamians from that southern island and other southern family Islands ahead of the onslaught of Hurricane Matthew, in October 2016.

Mr Lewis indicated that the Prime Minister had announced that the government would be building hurricane shelters in certain zones throughout the country.
The MP said: "We do not need to consistently go through the exercise of panicking and going to these makeshift hurricane shelters. We need to build shelters now purposely, and I want to say thank you to the churches and gymnasiums that open their doors to assist, but now we must find a way to better prepare because it is not a matter of if we are going to be getting hurricanes, it is a matter of when. We need to be proactive and purposely prepare for these natural occurrences."
When asked if the government is looking at building hurricane shelters, Mr Lewis replied: "Yes, we will be doing some prototypes in certain zones of the country."
He also noted that as the MP for Central Grand Bahama, he is looking at putting hurricane shelters throughout his constituency.
Ms Mitchell said that they began seeing the decline of church shelters following Hurricanes Frances and Jeanne, in 2004.
"We had some unscrupulous thing done in churches, and they say they would no longer wish to be on the list.
"But I take a different approach to that. If you say you are in a community and the people who are part of the community pay tithes and offerings; you are telling me you will not house persons who are taking care of this (church) building – that is a concern for me," she said.

Ms Mitchell said that the shelters are manned by Social Services personnel who are trained shelter managers. She also noted that shelters are inspected and checked before they are turned back over to the churches.
She also noted that finding shelter volunteers is also an issue.
Before going to a shelter, Ms Mitchell said that persons should first try to stay with family members or close friends. If they cannot, then they should find the nearest shelter and take personal items, medication, bedding and toys for their children, and supplies such as food and water.