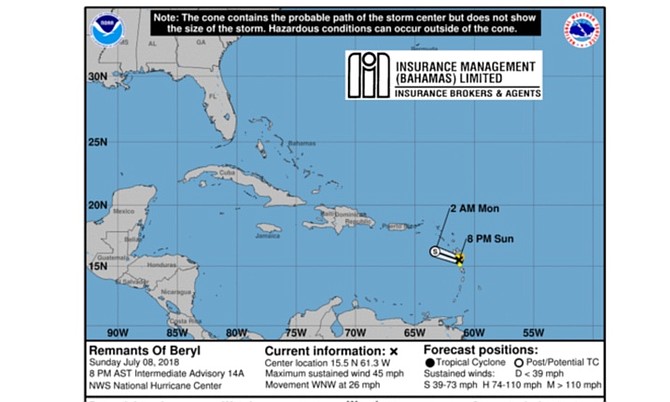 SUNDAY 8.55pm UPDATE: Beryl, which had been the Atlantic season's first hurricane, disintegrated as a tropical storm shortly before reaching Dominica on Sunday. But the US National Hurricane Center said it still had maximum sustained winds of 45 mph (75 kph) as it zipped over Dominica moving west-northwestward at 26 mph (43 kph).
SUNDAY 3.10pm UPDATE: Gusty winds began to hit the eastern Caribbean on Sunday as Tropical Storm Beryl advanced rapidly toward a region struggling to recover from last year's deadly hurricanes. The government of Dominica said it would shut down its water system and Puerto Rico's governor warned of likely new power outages. People on islands across the region stocked up on food and water and prepared for possible damaging winds, rains and waves. Intermittent rainstorms already were hitting Dominica early Sunday - 2 to 3 inches (5 to 7.5 centimeters) of rain could fall as the storm moves through or near the island on Sunday night. The U.S. National Hurricane Center said Beryl had maximum sustained winds of 45 mph (75 kph) Sunday. It was centered 120 miles (195 kilometers) east of Martinique and was zipping west-northwestward at 26 mph (42 kph). The storm was forecast to degenerate into a low-pressure system by Monday before reaching seas just south of Puerto Rico, which was devastated by Hurricane Maria in September.
SAN JUAN, Puerto Rico (AP) — Beryl weakened to a tropical storm Saturday but is still expected to dump heavy rain over the Lesser Antilles at the end of the weekend on its way to the eastern Caribbean, bringing a new threat to islands still rebuilding from last year's storms.
A tropical storm warning was issued for Dominica, which was battered by Hurricane Maria in September as a Category 5 storm. The island's meteorological service said weather conditions would start deteriorating Saturday night and warned of six to 12 inches of rain, with the storm expected to pass over or near Dominica late Sunday or early Monday.
Dominica Prime Minister Roosevelt Skerrit said in a public address that the storm's track and intensity could still change and urged people to remain alert.
"They should not let their guard down," he said.
He also asked people to store water because he said the government would be shutting down the water system as a preventive measure.
A tropical storm watch was issued for the French Caribbean territories of Martinique, Guadeloupe, St. Martin and St. Barts as well as the islands of Barbados, St. Lucia, Saba and St. Eustatius. Deeper into the Caribbean, a state of emergency was declared in Puerto Rico, where Maria caused more than an estimated $100 billion in damage.
Beryl was named the first hurricane of the Atlantic season Friday. At 2 p.m. Saturday, the U.S. National Hurricane Center said Beryl's strength had diminished and it had maximum sustained winds of 60 mph (95 kph). It was centered 665 miles (1070 kilometers) east-southeast of the Lesser Antilles and was moving west at 16 mph (26 kph).
People in the Caribbean were taking no chances. Long lines were reported outside grocery stores on the islands of Dominica, Puerto Rico and elsewhere as people bought food and water. Among those stocking up was Sandra Whitcher, an owner of Coffeeriver Cottages in Dominica.
"Here's hoping it misses us," she said, adding that crews fortified the roofs on all seven cottages that survived Hurricane Maria. "I can't say I'm not scared, but I know we have prepared as much as we can possibly do."
Forecasters said Beryl is expected to weaken further after entering the Caribbean. It was expected to pass about 70 miles (113 kilometers) south of Puerto Rico on Monday, but forecasters warned the storm-wracked U.S. territory could see up to 30 mph winds and heavy rains that could cause flooding and mudslides.
Meteorologist Odalys Martinez said in a phone interview that conditions in Puerto Rico would deteriorate late Sunday, with up to 3 inches (8 centimeters) of rain possible.
"There is a lot of uncertainty," she said.
Forecasters said Beryl probably would dissipate once it moved south of Haiti and the Dominican Republic on Tuesday or Wednesday.
Puerto Rico Gov. Ricardo Rossello declared a state of emergency for the island and suspended work on Monday.
Rossello told reporters the island would probably experience power outages, given that its electricity grid has become more vulnerable since Hurricane Maria. He said, however, that the recovery should be quicker since there are more power restoration crews and equipment on the island now.
The governor urged people without sturdy roofs to move to one of the 424 shelters that the government planned to open across the island. He recently noted that some 60,000 people still have only tarps for roofs.
"There are a lot of Puerto Ricans who are in a vulnerable position," Rossello said. "We are keeping an eye on this minute by minute. It is not the moment to panic, but it's the moment to prepare."
Puerto Rico Health Secretary Rafael Rodriguez urged all those with serious health conditions, including diabetics, to seek shelter at health facilities, which have generators.
Meanwhile, a tropical depression formed in the Atlantic well off the North Carolina coast, but forecasters said there were no coastal watches or warnings in effect. The hurricane center said it would likely become a tropical storm Saturday night or Sunday and continue strengthening over the next few days.
At 11 a.m. EDT, the storm was centered about 150 miles (241 kilometers) south-southeast of Cape Hatteras with maximum sustained winds of 30 mph (48 kph). It was moving north-northwest at 2 mph (3 kph).