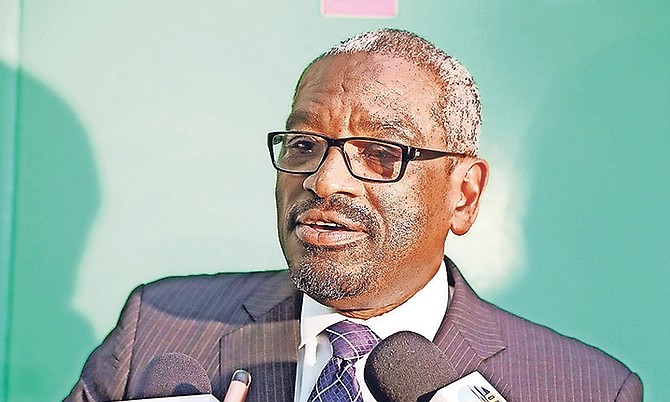 By AVA TURNQUEST
Tribune Chief Reporter
aturnquest@tribunemedia.net
THE Bahamas will not sign onto the CARICOM Single Market and Economy despite historic steps taken by the region at last week's summit, according to Prime Minister Dr Hubert Minnis.
Dr Minnis made it clear at a Saturday press briefing the country did not move to adopt the Protocol on Contingent Rights which provides a framework for the free movement of skilled labourers and their families between member states.
Dr Minnis said: "I want to say clearly so that you understand in spite of what you may read in the newspaper, we have discussed Caribbean Single Market and Economy (CSME). The Bahamas is not and will not be a part of CSME. The Bahamas will not allow free movement of people within our boundaries so we are not a part of CSME. That must be clear, so you do not feel that because of what has happened there, that Caribbean nationals would be able to move into the Bahamas quite readily.
"We have our rules, our laws and they will continue to apply so we are not and will not be a part of CSME."
A review of CSME's operation and a bid to accelerate its full implementation among CARICOM member states was one of the key issues addressed at the 39th CARICOM Heads of Government conference in Jamaica last week.
Earlier this year, Jamaica's Prime Minister Andrew Holness asked the body to achieve full implementation in five years, or Jamaica would consider its exit.
He made the announcement in that country's Parliament as he tabled a report from the CARICOM commission, chaired by Jamaica's former Prime Minister Bruce Golding, which listed recommendations to improve the group's function.
According to news reports, several CARICOM member states at last week's meeting suggested time was running out for full implementation.
Prime Minister of St Vincent and the Grenadines, Dr Ralph Gonsalves told media in Montego Bay that CSME provisions like currency conversion and free movement of labour needed more time.
Last week, CSME member states also adopted the Procedures on the Refusal of Entry of Community Nationals, according to a CARICOM release, along with a harmonised form to be used by Immigration when refusing entry.
The release stated member states were also urged to implement the Procedures on the Refusal of Entry of Community Nationals by August 1.
A special meeting on the CSME was agreed to be held in Trinidad and Tobago in November.
Presently, 12 of the 15 full members of CARICOM are also full members of CSME: Antigua and Barbuda; Barbados; Belize; Dominica; Grenada; Guyana; Jamaica; Saint Kitts and Nevis; Saint Lucia; Saint Vincent and the Grenadines; Suriname and Trinidad and Tobago.
The Bahamas is the only full member that has not joined the CSME as Haiti is a partial participant, and Montserrat - a British Overseas Territory - is a signatory.
The CSME was conceived as an integrated development strategy that began as the Caribbean Free Trade Agreement, which was formed in 1965 and dissolved in 1973.
Brent Symonette, minister of financial services, trade and industry and immigration, recently revealed to Tribune Business that the government is targeting 2019 to complete its accession process to the World Trade Organisation (WTO).
Under WTO, factors like the extent to which foreign labour can enter the Bahamas, and in which industries, will likely depend on this nation's negotiators and the WTO accession terms.
Meanwhile on the matter of hurricane preparedness and disaster management, Dr Minnis said he told CARICOM members he was disappointed at the level of funding for the Caribbean Disaster Emergency Management Agency (CDEMA) -- its inter-governmental agency for disaster management.
"I told CARICOM point blank at the meeting," Dr Minnis said, "I'm disappointed that CDEMA has not been funded as much as it should be. They are only funding CDEMA about $1.2 million, and I told CARICOM members that those who have not paid up must pay up, and we must increase funding.
"We got a perfect lesson during the last hurricane when America was quite engaged with Puerto Rico and dealing with matters of its own nature, and the other territories were dealing with matters also, which meant that CARICOM nations had to come, galvanise, come together and help themselves and each other.
"So the message that has come out there," he said, "is that we cannot always depend on others. We must be able to mobilise our team, our forces, and try to help ourselves."