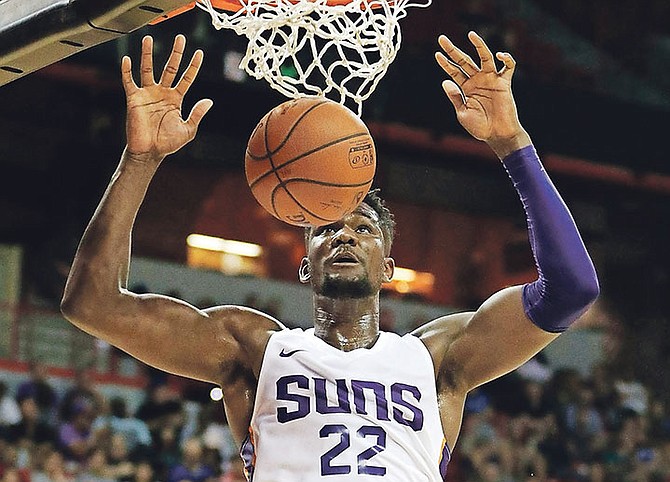 By RENALDO DORSETT
Tribune Sports Reporter
rdorsett@tribunemedia.net
AS the Las Vegas Summer League tipped off, Deandre Ayton has showed flashes of the athleticism and basketball IQ on both ends of the floor that led to his selection as the top overall pick in June's NBA Draft.
In his summer league debut on July 6, Ayton finished with 10 points (4-6 field goals) and eight rebounds in 22 minutes in an 92-85 win over the Dallas Mavericks. He followed with 21 points (8-11 field goals) and 12 rebounds in a 71-63 win over the Sacramento Kings.
Ayton and the Suns will take to the court Monday at 9:30pm against the Orlando Magic to finish pool play prior to the single-elimination tournament. This will be the first year all 30 teams will participate in the Las Vegas Summer League.
Ayton's first basket came on an alley-oop finish. New Suns head coach Igor Kokoskov used his new centre on post ups early in the game, however the Mavericks went to double teams often. While the Suns built a large lead, Ayton was used primarily in pick-and-roll situations. Defensively, he was caught on switches on the perimeter but was able to stay with second-year guard Dennis Smith Jr.
It was his first game action in nearly four months since his Arizona Wildcats were eliminated in March in the NCAA tournament.
In game two, Ayton went head-to-head with second overall pick and former high school teammate Marvin Bagley. Bagley finished with 15 points and seven rebounds.At minicamp, Ayton spoke to Scott Bordow of The Arizona Republic on his progress. "It's cool. I've just got to live up to the hype. Now I'm playing against some competition. We're scratching each other, fighting each other. Now I know how the NBA works. It's a grown man's game, for sure. It fits me because I'm throwing it right back at them," said Ayton.
"Two practices a day, I've never had that. The body gets fatigued. Recovery is very important. I know that. You have to take care of yourself because you go hard every day."
With Ayton's selection, the Bahamas now joins the United States, Canada, Nigeria and Australia as the only countries with multiple No.1 overall NBA draft picks.
It also represented the first No.1 pick made by the Suns in franchise history and the first No.1 pick from the University of Arizona.
Dwight Coleby is also participating in the Las Vegas Summer League and hopes to make an impression as he pursues his first pro basketball contract.
Coleby had to cut his time with the national basketball team short when he was named to the 2018 Las Vegas Summer League and mini-camp roster of the New Orleans Pelicans, but has been sparsely used through three games thus far.
The roster is highlighted by several recent franchise draft picks, including third-year forward Cheick Diallo, 2017 second-round pick Frank Jackson and 2018 second-round pick Tony Carr.