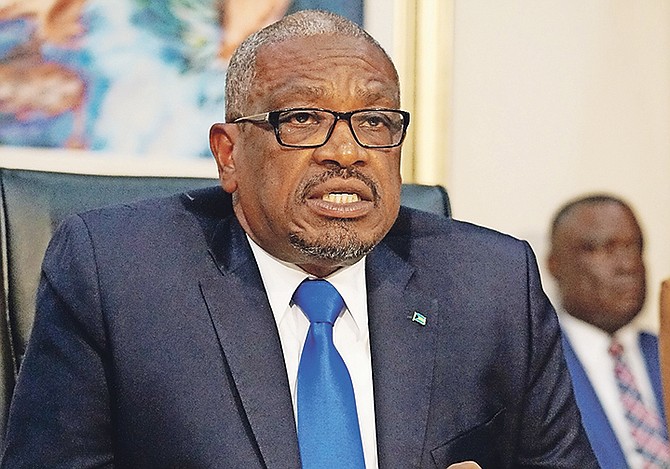 Reader poll
679 total votes.
By AVA TURNQUEST
Tribune Chief Reporter
aturnquest@tribunemedia.net
PRIME Minister Dr Hubert Minnis has given tacit support for the medical and scientific use of marijuana, however he told the media his personal views will not supersede a widespread public education campaign.
Dr Minnis said the government will establish a committee to host town meetings and focus groups on the issue. He said once the public's stance is gleaned, the matter will be brought to Parliament for debate and "the people" will make a determination on the way forward.
The nation's leader addressed reporters at the Lynden Pindling International Airport on his return from the 39th meeting of CARICOM Heads of Government meeting, where a report calling for the end of prohibition of the plant was discussed.
He said he preferred the scientific name "cannabis" as the world was moving away from colloquial use of the term "marijuana". Marijuana refers to the dried leaves, flowers, stems, and seeds from the Cannabis sativa or Cannabis indica plant.
"I am first and foremost a scientist," Dr Minnis said on Saturday, "first and foremost a physician. We analyse things and there (is) information coming out that would suggest there are some scientific benefit."
Asked for his personal view, Dr Minnis said: "I believe in research and if research shows that there are medical benefits, my job as a doctor is to try and improve and save lives. I am first and foremost a doctor, so my views are more medicinal, my views are more research, but the matter has to be discussed. So I'm not going to throw my views down anybody's throat. I'm going to give them the facts, my colleagues will give them the facts, they will read the facts and they will make up their own mind.
"But I will not force my views on anybody," he added.
Dr Minnis noted Bahamian Bishop Simeon Hall was part of the regional team that conducted an extensive study on the social, economic, health and legal issues surrounding marijuana use in the Caribbean, and also made a presentation at last week's meeting. Bishop Hall was unavailable for comment up to press time.
According to Jamaican news agency The Gleaner, the Regional Marijuana Commission (RMC) report argues that a strictly regulated framework for marijuana, akin to that for alcohol and tobacco, should be introduced.
It said there was a unanimous view that the current classification for cannabis/marijuana as a dangerous drug with no value or narcotic should be changed to a classification of legal cannabis as a "controlled" substance.
Dr Minnis did not speak to any findings of the report at Saturday's press briefing.
"However the Bahamas' position is all of our Cabinet members will be well versed with the report," he said, "and we would embark on an education process so that our people would understand what was the content of the report, after which we would establish a committee…they would then have the responsibility to do both town meetings, focal group meetings. They themselves would be well educated with the report and what is being said about cannabis today."
Dr Minnis continued: "They would travel to the Family Islands seeking individual Bahamians' opinion, focal groups seeking Bahamian's opinions, UB and other advanced education institutions within our Bahamas. Once they have completed that they would be given a timeline as to the response and feeling of the Bahamian populace. Once that is complete that would be brought to Parliament for complete debate, therefore the people would make determination as to what is the advancement forward."
Dr Minnis noted the University of the West Indies was once one of the leading institutions in cannabis research, namely its discovery of its benefits for treating glaucoma, but had "subsequently fallen off."
The government's committee will comprise of a wide-range of stakeholders, he said, including NGOs, members of the Christian council, University of the Bahamas, and Chamber of Commerce.
Dr Minnis said there will not be an opinion poll on this issue.
"The entire matter (will be) discussed at Cabinet level. We will come to a consensus determination as to who should be on such committee to ensure you have a broad base and the whole educational process, because whomever is on the committee they must also be quite versed with the report and understand it."
Dr Minnis added: "One of the big mistakes we make, you send the wrong messenger to preach a message that the messenger don't necessarily understand."
Seventy-one percent of 998 residents surveyed in a recent Public Domain poll said they believed marijuana should be legalised for medicinal purposes, and all respondents ranked marijuana as the least harmful substance by comparison to tobacco, alcohol, and sugar, across the board.