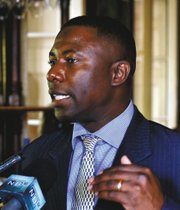 By MORGAN ADDERLEY
Tribune Staff Reporter
madderley@tribunemedia.net
THE CAUSE of the fatal Exuma boat accident which occurred more than a week ago has yet to be revealed, Transport Minister Renward Wells told The Tribune yesterday.
"The investigation is ongoing," he added.
Elliot Lockhart, QC, attorney for boat owner Clayton Patterson Smith, echoed Mr Wells' comments.
Mr Lockhart told The Tribune yesterday that police have not confirmed what caused an explosion aboard a Four C's Adventure tour boat on June 30. The incident killed one American woman and injured eleven other people.
Although initial reports from the Royal Bahamas Police Force said an engine had exploded, later reports from Acting Port Controller Commander Raymond King confirmed that this was not the case.
"I am unaware of what the police report stated but I'm sure the social media images would've revealed that the engines weren't affected as part of the explosion but I wish not to speculate about what may have happened," he said during a press conference held on July 2.
At the time, former Transport and Local Government Minister Frankie Campbell said the affected vessel was home-built and had two Yamaha engines.
Despite social media reports that representatives from Yamaha were visiting the country to inspect the boat's engines, yesterday Mr Lockhart could not confirm this matter to be true, saying he was unaware of any such visits.
On July 4, Mr Lockhart declared the boat incident to be a "purely unfortunate accident".
However, he also insisted that based on his investigations on the island and with the boat's captain, he strongly believes there is a possibility the boat may have been sabotaged.
Four C's, Exuma's largest tour operator, was issued a cease and desist order on July 1.
Three days later, Mr Lockhart said his client had returned an excess of $20,000 in cancelled bookings since his company was forced to suspend operations pending the results of the investigation.