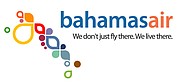 THE national flag carrier has resumed scheduled flights into Haiti after temporarily suspending them because of violent protests in the country over an increase in gasoline prices.
According to a press release, Bahamasair resumed flights yesterday.
"After liaising with the Ministry of Foreign Affairs and company personnel on the ground, Bahamasair officials are satisfied that safe and reliable service into Haiti can resume," the airline's statement noted.
"Meanwhile, Bahamasair continues to support international efforts to return Haiti to a state of normalcy and are praying for peace in Haiti."
According to NBC News, much of Haiti's capital was calm on Monday after "three days of violent protests and looting sparked by a government plan to raise fuel prices".
The report added: "The relative calm came amid a strike by mini-bus and taxi drivers, as well as the closure of most businesses. The strike made it impossible for most Haitians to get to school or work, and the streets of Port-au-Prince were largely deserted.
"...The protests erupted on Friday, hours before the government-set price of fuel was set to rise by up to 50 percent -- a move prompted by the International Monetary Fund, which pressed Haitian officials to curb government subsidies for food. The government cancelled the price hike as the unrest began to escalate, and airlines nixed flights to the impoverished country."