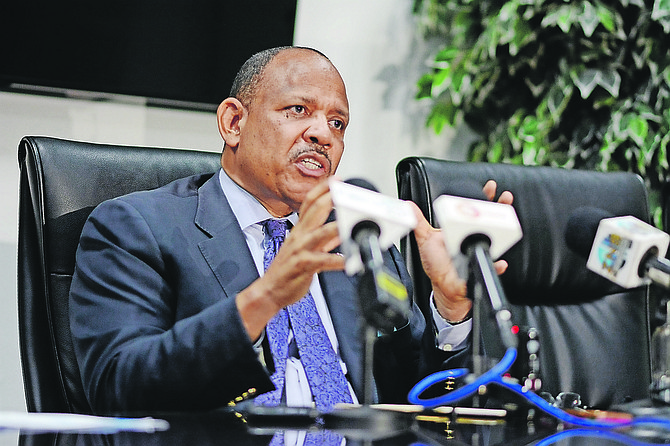 Reader poll
679 total votes.
By AVA TURNQUEST
Tribune Chief Reporter
aturnquest@tribunemedia.net
HEALTH Minister Dr Duane Sands yesterday attacked the scientific credibility of CARICOM's report on marijuana, expressing disappointment over its methodology and "intrinsic bias".
Dr Sands' critique follows Bishop Simeon Hall's suggestion that opposition to calls for medical marijuana and an end to prohibition came from special interest groups in the medical community.
Bishop Hall was part of CARICOM's Regional Marijuana Commission (RMC), which studied issues related to marijuana prohibition for the past two years.
The pastor backed the recently released regional report, stating he was convinced the plant was criminalised in the 1930s to protect the interest of liquor merchants following the end of America's prohibition of alcohol.
Yesterday, Dr Sands said he personally believed marijuana should be liberalised for both medicinal and recreational use but could not ignore the lack of scientific data in the report.
"The methodology is suspect," Dr Sands said. "I'm trying to be as progressive as I can but as I read this paper, I hear some implicit or intrinsic bias coming out that these are persons who want this outcome. It's as if I write a paper solely to support my position so, notwithstanding the fact there is clearly an appetite for change, I look at this paper and see that this could be a problem.
"Look at the methods, what you come to realise is the methodology used is unfortunately a bit suspect, that doesn't mean I will change my approach or how I feel about this. But I have to encourage the (Ministry of Health) technical team to look at this because of the implications for policy," he continued. "There is very little science in this paper, where is the data?"
Bishop Hall suggested the push for regulated use of marijuana represented a call to return to natural, non-synthetic medicine, in a press statement on Monday.
"This call is being made to the annoyance of some doctors, pharmacists and insurance companies," his statement read.
"The statistics I have studied as a member of the CARICOM Commission on marijuana over the last two years, clearly show that this 'herb' which grows on every island nation in this region has medicinal value and can be used as raw material for other positive purposes."
Bishop Hall implored the government to engage in its own study on the issue, particularly medical marijuana, with a view to help the "least - the lost and the left out."
His statement continued: "The analysis of the comprehensive information gathered, indicates that the current legal regime for cannabis characterised as it is by prohibition and draconian criminal penalties is ineffective, incongruous, obsolete and unjust. Cannabis/marijuana is a victimless crime. Persons using this herb can end up with harsher penalties than those convicted of serious victim-based crimes.
"Without question, there is a clear public opinion in favour of legal reform to existing laws on cannabis and the removal of prohibition."
The CARICOM Commission was tasked to conduct "a rigorous enquiry into the social, economic, health and legal issues surrounding marijuana use in the Caribbean and to determine whether there should be a change in the current drug classification of marijuana thereby making the drug more accessible for all types of usage (religious, recreational, medical and research); and to recommend, if there is to be a re-classification, the legal and administrative conditions that should apply."
It was convened in June 2016 but suspended after the first national consultation was held in St Vincent and the Grenadines, due to a lack of funding. After funding was obtained from the Foundation to Promote Open Society (OSF), national consultations resumed a year later in June 2017.
The report's methodology states mixed methods were used to gather information with primary data obtained from national consultations, comprising national public meetings and focus groups. While the commission made itself available to all member states, only nine of the 15 countries took part in national consultations: St Vincent and the Grenadines, Antigua and Barbuda, Barbados, Guyana, Suriname, Montserrat, St Kitts & Nevis, Belize and the Bahamas. Dominica's consultation was cancelled due to Hurricane Maria's passage; Trinidad could not accommodate within the time period; and there was no response from St Lucia. Jamaica had already amended its marijuana laws, and subsequently was not prioritised due to funding constraints.
The commission noted there were time and budgetary constraints for conducting national surveys, so public town hall meetings were utilised for open discussion and clarification of issues where such necessity arose. It acknowledged views expressed at public forums did not necessarily reflect the opinions of the entire population; however, stated this shortcoming was supplemented by focus groups and an online survey, and questionnaires for regional police.
"A challenge arises with the reliability of focus groups, town hall meetings and social media surveys, that is, whether the same results would be obtained under the same circumstances if repeated at a different time," the report read. "All three methods lack specificity to national populations. Further, given the illegal status of marijuana it was difficult to ascertain accurate use patterns from the adult population and they are likely to be under-reported.
"The commission is, however, satisfied that it was able to harness wide and representative views on legal policy on cannabis/marijuana in the region, which adequately informs this report," the document notes.
For his part, Dr Sands said he was particularly disappointed that some of CARICOM's largest member states were not canvassed, such as Jamaica, Trinidad, or Antigua. A petition seeking to legalise cannabis with over 9,500 signatures from Trinidad and Tobago was received, according to the report.
Dr Sands said notwithstanding those countries have already made strides towards liberalisation, their data was still critical to validating assumptions.
"How do we now say this is representative of CARICOM?" Dr Sands questioned.