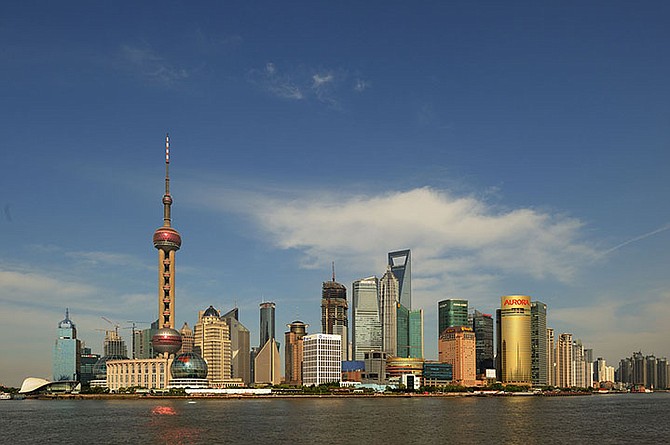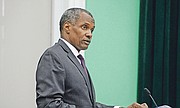 By RICARDO WELLS
Tribune Staff Reporter
rwells@tribunemedia.net
THE Bahamas, in its push for more comprehensive and modern development, can take cues from the full-concept Shanghai master plan recently exhibited in China, according to Works Minister Desmond Bannister.
In a communication to Parliament yesterday on his attendance at the 2018 Ministerial Forum on Urban Regeneration and Development held in Shanghai, China, last month, Mr Bannister called on local stakeholders to engage in discussions predicated on comprehensive planning and development.
Highlighting the Shanghai 2035 Master Plan, which lays out an 18-year cross-platform developmental blueprint for the city, the Carmichael MP asserted that there are "critical issues" all Bahamians must collectively identify and work toward.
Mr Bannister said: "(Shanghai) has successfully transformed itself to a world class international city that is renowned for its international economic, finance, trade and technological innovation.
"Most impressive was the city's emphasis on planning for development. Notwithstanding the fact that it already had a master plan for development, in 2015 Shanghai pulled all stakeholders together and refocused on the planning process.
"This has resulted in the recently completed Shanghai 2035 Master Plan, which focuses on development for the next 18 years.
"The plan was developed over a period of two years with consistent community dialogue. Residents were comprehensively engaged in the process of planning the city that they want to live in."
He added: "Mr Speaker, a critical aspect of the Shanghai master plan focuses on critical issues that we too here in The Bahamas must engage in discussing. One of these is the issue of branding.
"In other words, what is the image of The Bahamas that we wish to convey to the world, and what is the image of each island that we wish to cultivate with respect to business, technology, culture and finance."
He contended that all over the world cities are presently grappling with the issue of creating unique brands that distinguish them from every other destination.
Mr Bannister said many traditional brands are being rethought with a focus on the future, and as such, he said The Bahamas must rapidly do likewise because "sun, sand and sea" are no longer seen to be unique to us.
"The redevelopment of our downtown and the very survival of our communities throughout the country may well depend on how we brand ourselves," he said.
Continuing his analysis, Mr Bannister yesterday also raised concerns over the extent to which The Bahamas has encouraged culture of entrepreneurship, by comparison to the country's reliance on traditional employment.
"In Shanghai, they are creating entrepreneurial hubs," he said. "They have redeveloped and continue to redevelop old and abandoned sites into centres of entrepreneurship.
"Young people with innovative ideas are able to relocate to these centres at concessionary rates as they develop their revolutionary ideas.
"What they seek to do is create mini Silicon Valleys at strategic locations throughout their city to provide budding entrepreneurs with the opportunity to come up with that next great idea without the pressures, risk and exorbitant expenses that are often attendant on innovation and business development," he added.
"The Shanghai master plan comprehensively focuses on promoting urban and rural integration, and also formulates spatial development strategies related to providing critical services in local communities and the preservation and protection of the environment.
"These are matters that require our urgent attention in The Bahamas also, as New Providence continues to sprawl without consistent planning," he said.
"We need to plan now," Mr Bannister told the House.
"(A plan) for population growth, the development of roads, schools, clinics and other community services rather than our current seemingly random and haphazard approach to national development."
According to Mr Bannister, the government's proposed economic zones plan could serve as a launching pad for a comprehensive redevelopment scheme.
He added: "Mr Speaker, locally, the prime minister's innovative, timely and much needed focus on the regeneration of our traditional Over-the-Hill communities is a wonderful launching pad for a national focus on planned development and regeneration.
"We have much work to do, and the active participation of all of our people will be required for optimum levels of satisfaction," he said.
In its last term, the Christie administration put together a committee to develop Vision 2040, a national development plan that focuses on four main policy pillars - the economy, governance, social policy and the environment. It had been heralded as the first effort to plan The Bahamas' development using empirical data and analyses, with input from private sector and civil society organisations.
Setting out a road map, the plan aims to break with The Bahamas' past ad hoc approach to national growth by setting a clear path towards a more sustainable future.
Last November, Progressive Liberal Party Leader Philip Davis called on the Minnis administration to clarify its position on the future of the plan, insisting that the nonpartisan initiative represented the aspirations of the nation.