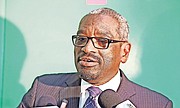 By KHRISNA RUSSELL
Deputy Chief Reporter
krussell@tribunemedia.net
THE Department of Immigration is continuing an "aggressive" approach to illegal migration with 165 repatriations carried out in recent days, according to Prime Minister Dr Hubert Minnis yesterday.
Dr Hubert Minnis, who is acting immigration minister while Brent Symonette is out of the country on leave for the next two weeks, said 120 Haitians are being sent home today, while 42 of them were expected to be repatriated yesterday.
According to the Royal Bahamas Defence Force, the 120 migrants - 97 men and 23 women - all pleaded guilty to illegal landing before Magistrate Kara Turnquest in Inagua yesterday.
"We have an aggressive programme now," Dr Minnis said yesterday.
"We have immigration, the defence force and the police force on the alert for sloops coming in. They are to be arrested and tried on whichever island is near to where they were captured.
"We have a policy. We are not bringing them here to New Providence."
On Sunday, the Royal Bahamas Defence Force, in conjunction with international counterparts, apprehended two migrant sloops in separate operations with more than 160 people on board.
The first sloop carrying Haitian migrants was intercepted about 5.30am on Sunday, approximately 40 miles east of Ragged Island. The second sloop was intercepted an hour later, south of Acklins.
According to the RBDF, the first apprehension was a joint maritime effort with Operations Bahamas Turks and Caicos (OPBAT).
A RBDF patrol craft and OPBAT helicopter had been on the lookout for the Haitian sloop since Friday.
The helicopter spotted the sloop on Saturday, approximately 67 miles west of Inagua, after receiving information provided by the RBDF Intelligence Section in collaboration with the Bahamas Immigration Department.
Around 5.30am on Sunday, HMBS Durward Knowles, under the command of Lieutenant Commander Omarv Saunders, intercepted the wooden vessel approximately 40 miles east of Ragged Island. There were 42 migrants on board.
The second operation was conducted in conjunction with the United States Coast Guard (USCG) District 7 and OPBAT. An OPBAT helicopter also spotted the second sloop on Saturday.
Around 6.30am on Sunday, USCG Cutter Northland intercepted the sloop approximately 16 nautical miles south of Acklins, with 120 migrants on board.
Forty-six Haitian migrants were apprehended by RBDF patrol craft HMBS Madeira on July 3. The incident took place near South Eleuthera. Those migrants have since been charged in court in Nassau.