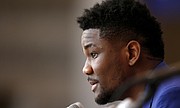 By RENALDO DORSETT
Tribune Sports Reporter
rdorsett@tribunemedia.net
DEANDRE Ayton's first impression on the NBA landscape produced his first league-wide award.
The Phoenix Suns centre was named to the 2018 All-NBA Summer League Second Team.
Ayton led the team with 14.5 points, 10.5 rebounds and one blocked shot per game while shooting 59.5 per cent from the field as he was one of just seven players in Las Vegas to average a double-double.
In his summer league debut on July 6, Ayton finished with 10 points (4-6 field goals) and eight rebounds in 22 minutes in an 92-85 win over the Dallas Mavericks.
He followed with 21 points (8-11 field goals) and 12 rebounds in a 71-63 win over the Sacramento Kings, matched up against second overall pick Marvin Bagley.
In game three, Ayton got a morale booster against one of his high school and another new NBA rival as he helped the Phoenix Suns blow out the Orlando Magic 71-53.
He exploded for a game high 17 points, 13 rebounds and a block shot in 25 minutes over Orlando's Mohammed Bomba, who was limited to four points, five rebounds, five blocks and two steals in 22 minutes in the much anticipated match-up of two of the top big men in the recent draft.
Joining Ayton on the Second Team are Portland's Wade Baldwin IV, Memphis' Jaren Jackson Jr, the Los Angeles Lakers' Sviatoslav Mykhailiuk and Atlanta's Trae Young. The All-NBA Summer League First Team consists of Chicago's Wendell Carter Jr, the Lakers' Josh Hart, New York's Kevin Knox, Cleveland's Collin Sexton and Milwaukee's Christian Wood.
With Ayton's selection in last month's NBA Draft, the Bahamas now joins the United States, Canada, Nigeria and Australia as the only countries with multiple No.1 overall NBA draft picks. It also represented the first No.1 pick made by the Suns in franchise history and the first No.1 pick from the University of Arizona.
At mini-camp, Ayton spoke to Scott Bordow of The Arizona Republic on his progress.
"It's cool. I've just got to live up to the hype. Now I'm playing against some competition. We're scratching each other, fighting each other. Now I know how the NBA works. It's a grown man's game, for sure. It fits me because I'm throwing it right back at them," Ayton said. "Two practices a day, I've never had that. The body gets fatigued. Recovery is very important. I know that. You have to take care of yourself because you go hard every day."