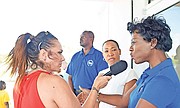 By FARRAH JOHNSON
THE National Emergency Management Agency teamed up yesterday with The Tribune's Radio House and Fidelity Bank to promote hurricane safety and emphasise the importance of being prepared for this storm season.
Broadcasting live from NEMA's headquarters, hosts from 100 JAMZ, Y98, and Kiss FM spoke to NEMA representatives on what Bahamians can do to protect themselves and their possessions from natural disasters.
As part of the initiative, Fidelity Bank also presented NEMA with a number of hurricane kits consisting of disaster blankets, flashlights, as well as first aid kits among other helpful supplies.
Tangela Albury, chief of compliance and internal audit at Fidelity Bank and donations committee chair, explained that the company wanted to ensure that people took hurricane preparedness seriously.
"We recognise that not only are we in the business of making loans and deposits, but we're also in the business of giving back and being good for the community in a non-financial sort of aspect," she said.
"Meaning as we identify programmes for youth, education, and in this case working with NEMA in the area of hurricane preparedness and disaster preparedness, we see an opportunity to help the community in a different way," she added.
Fifty of the kits will be donated to elderly people as part of the government's Over-the-Hill rejuvenation, while 70 more will be disbursed to the Disaster Consultative Committee volunteers/NEMA Committee members.
The remaining 165 kits will be turned over to the Department of Social Services for disbursement to "vulnerable" families.
Lisa Bowleg, senior probation officer of the disaster management unit from the Department of Social Services, said: "It is a wonderful corporate decision that Fidelity has made … and so I think that the initiative regarding the shelter kits is an excellent idea. It's much needed, and it's timely as we are currently in the hurricane season."
Speaking to 100 Jamz radio personality JJ McKenzie, NEMA Director Captain Stephen Russell added that many Bahamians tend to "take too long to prepare".
"They need to hear that a storm is travelling and is upon us before they make those final moves to really secure their property, and we're trying to urge persons year round to always be prepared for the upcoming hurricane season," he said.
Capt Russell said they are encouraging citizens from "all spectrums of society" to be prepared for the upcoming season.
"Besides household preparedness, we're trying to get persons to be mindful of community preparedness," he said.
Capt Russell shared that a good way to do this is for one to make themselves aware of the "condition and status" of their neighbours in terms of their own "state of preparedness."
He added that identifying where senior citizens and disabled persons are living in the neighbourhood, as well as becoming familiar with the location of shelters is also helpful.
Adding that NEMA has been trying to present the message of preparedness at various levels, he also stated: "We want our schools to be ready -even though schools will be closed we want persons to be mindful that hurricane season is upon us."
He said school principals and other faculty members should ensure that all records and key equipment are secured or that a team is in place to do so.
"I'm saddened when I travel around the islands after disaster and see essential items that could have been secured, damaged as a result of the storm," he said.
Capt Russell also said they are encouraging pastors and parishioners of various churches, which are used as shelters, to "do their best to safeguard church properties."
"From a sectoral standpoint all government ministries and departments… we urge all of them to have a sector plan… that's our thrust this hurricane season: hurricane household preparedness, neighbourhood preparedness, community preparedness, constituency preparedness, church, school, and sector preparedness," he said.