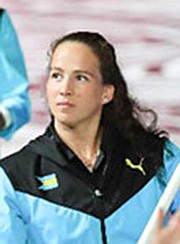 By BRENT STUBBS
Senior Sports Reporter
bstubbs@tribunemedia.net
AFTER the first day of competition at the 23rd Central American and Caribbean Games in Barranquilla, Colombia, the Bahamas picked up its first medal - a gold from swimmer Joanna Evans with a games' record breaking performance. 
In the final of the women's 400 metre freestyle at the Complejo Acuático on Friday, Evans stopped the clock at four minutes and 11.15 seconds to put the Bahamas in fifth place on the medal table that is led by Colombia with 20 (8 gold, 7 silver and 5 bronze), followed closely by Mexico with 16 (6 gold, 4 silver and 6 bronze. 
Evans, who turns 21 on July 24, erased the meet record of 4:11.36 that was set by Andreina Pinto from Venezuela in Mayaguay, Puerto Rico on July 23, 2010.
Coming off her fastest qualifying time of 4:15.51 earlier in the day, Evans posted splits of 28.80 at the 50m, 59.59 (30.79) at 100m, 1:30.83 (31.24) at 1:50m, 2:02.48 (31.65) at 200m, 2:34.37 (31.89) at 250m, 3:06.91 (32.54) at 300m, 3:39.54 (32.63) at 350 and 4:11.15 (31.61) at 400m.
Allyson Macias of Mexico got the silver with 4:14.74 and Helena Moreno Hernandez of Costa Rica got the bronze with 4:15.51.
The Bahamas also had two competitors in the final of the women's 100m breaststroke, but Lilly Higgs had to settle for fifth in 1:11.32 and Laura Morley was sixth in 1:12.34. Jamaica's Alia Atkinson had a meet record time of 1:06.83 for the gold over the Mexican duo of Byanca Rodriquez, silver in 1:07.80 and Medina Gonzalez, bronze in 1:10.60.
Higgs won her heat in 1:13.32 and Morley was second in her heat in 1:11.79.
And Kohen Kerr placed sixth in his heat of the men's 100m free in 52.58, but it wasn't fast enough for him to advance.
The Bahamas also saw competition in sailing with two competitors in action.
Spencer Cartwright is now in 10th place overall with 32 points after the first three race in the men's laser. He got 13th in the first race, 9th in the second and 10th in the third. There will be no competition for Cartwright on Saturday, but he will be back on Sunday for the next three races in the nine race series.
Paul de Souza, competing in the open sunfish, is in 10th place overall after the first two races. He got 10th in the first and 13th in the second after he retired. There's no indication if he will complete the series that will continue on Saturday with the next two of the races on tap.
Efforts to contact team officials in Colombia were unsuccessful.