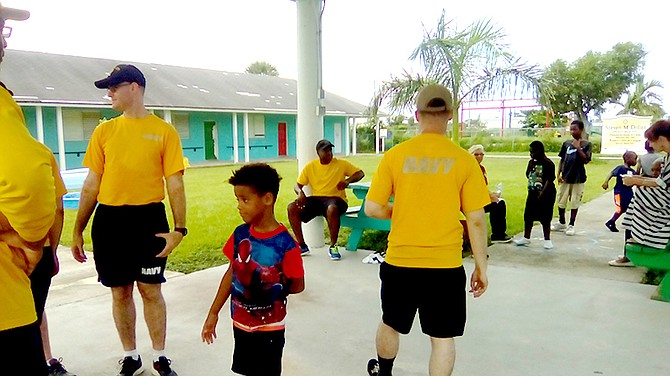 By DENISE MAYCOCK
Tribune Freeport Reporter
dmaycock@tribunemedia.net
THE US Naval ship, USS Hué City CG-66, is in Grand Bahama this weekend and some of its crew members visited children at the Beacon School's Summer Camp on Friday as part of a community relations project.
US Chargé d'Affaires Stephanie Bowers at the US Embassy in The Bahamas and Captain Jake Douglas, the commanding officer, is also hosting a reception onboard the naval ship at 6pm at Freeport Harbour.
USS Hué City, which is based in Mayport, Florida, is a guided-missile cruiser. It has been in service for the past 27 years and was named after the battle at Hué City in Vietnam.

When The Tribune arrived at the Beacon School, crew members were involved in various recreational activities with some 35 special needs children.

Tyler Hopkins, Lieutenant Junior, and Chaplain on the USS Hué City said he and the other crew members are happy to be in The Bahamas and spending some time with the children.
"Ten of us are here from the ship playing games with the kids, and we read to them for 30 minutes, and loving on them and having a good time with them," he said.
Lt Junior Hopkins said most people and kids tend to be scared of military personnel, but they want to change that perception.
"We want them to know we are people just like them and that we know how to have a good time," he said.
Every year a naval ship visits The Bahamas. It is the first time that USS Hué City has come to Grand Bahamas.
According to Hopkins, the naval ship was built in 1989 and commissioned in 1991. "It is the only ship to be named after a battle in Vietnam," he said.

"We try to do community relations projects to help people in the different places we visit. Sometimes we help with painting, building something if they have material and supplies for us; it really varies depending on our abilities and what the community needs of us," he said.

Titi Mckenzie Moss, principal of Beacon School, was pleased that the naval crew came to spend time with the campers. "It is a wonderful treat for the kids who are enjoying themselves with members of the naval ship," she said.
She said the Beacon is the only government-funded special-aide school on the island and had an enrolment of 106 children. Their summer camp is held in conjunction with the Freeport City Council.
Moss said today they are hosting a Wet and Wild Fun Day. "They came and read to the children, and now they are involved in personal interaction with the campers, playing soccer, basketball, frisbees, hoola-hoop, musical chairs and other fun activities,"
Penny Rechkemmer, public affairs officer at the US Embassy, said every year when a US naval ship comes to Grand Bahama the crew takes part in a community relations project.
"We do think it is so important that the community understands our full relationship with The Bahamas, and that we have all these different types of cooperation going on," she said.
Ms Rechkemmer said the US military is one of those areas of cooperation. "We get the sailors to come out and really see what we are about because they don't spend time here as we do, and they get to see The Bahamas, and the things we usually we do things with the children."
She also said that the interaction between the children and naval sailors on the big ships allows them to form a personal connection.

"It is really important to build those person-to-person ties, and this is one of the ways we do it," Ms Rechkemmer said.