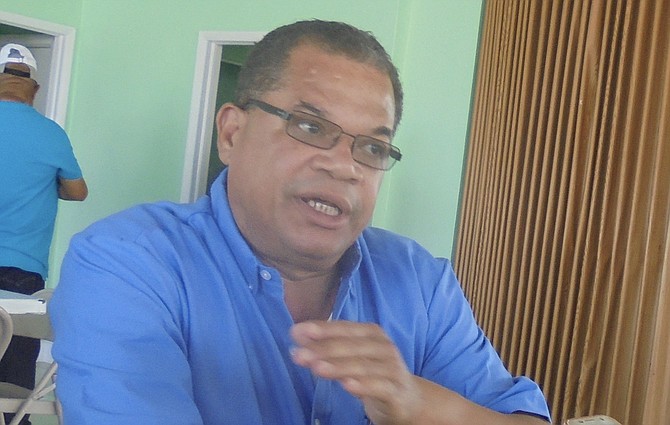 By AVA TURNQUEST
Tribune Chief Reporter
aturnquest@tribunemedia.net
LABOUR Minister Dion Foulkes yesterday said he was confident negotiations between the government and Oban Energies over a revised deal will be conducted in good faith.
Mr Foulkes said Oban's principals have indicated an openness to discuss amendments to the controversial Heads of Agreement for a proposed $5.5bn oil refinery and storage facility in East Grand Bahama.
"The technical committee had a series of meetings in New Providence and Grand Bahama and is due to present their report by end of the month, so by August 1," he said.
"The process after that would be a Cabinet consultation and then we will have a meeting with the principals of Oban to have talks with the view to revising the agreement.
"They (Oban) have indicated that they are open to have a discussion. I do not want to go any further than that until we actually meet but I'm very optimistic that we will come up with a much improved document."
The Tribune asked if the government was confident about pending negotiations, and whether Oban Energies had any incentive or compulsion to revisit the deal.
Mr Foulkes said: "The full committee had two meetings in Grand Bahama and we had about two meetings in New Providence with the principals of Oban, and they have agreed in principle with respect to making revisions to the agreement."
Chief among those amendments is the review and adjustment of environmental clauses, economic terms and several "restrictive" legal conditions now in the Heads of Agreement (HOA), he said.
"Environmental concerns are number one, we want to strengthen all of the clauses that deal with the environment with the view to strengthen the environmental protection.
"Economic benefits, not just for East Grand Bahama but for all of Grand Bahama and the whole Bahamas. We want to strengthen the economic benefits, this is a $5.5bn project.
"Then we are looking at the provisions dealing with legal requirements and legal framework around which the entire HOA was formed.
"This is a comprehensive study and investigation we are doing, we are taking our time to do it because we want to get it right."
Mr Foulkes said once a revised agreement is finalised and signed, it will likely be tabled in Parliament.
"The main thing is we are doing this very deliberately," he said, "and we are making sure that we cover all of the bases."
The deal has received intense push-back from civic groups, including several of the country's foremost environmental organisations, since it was first unveiled nearly five months ago.
The fallout prompted an admission from Prime Minister Dr Hubert Minnis that there were gross missteps in government process.
Oban Energies has reportedly spent $10 million on the project so far, according to its president, Satpal Dhunna, who said a significant amount of those funds were used to nail down the best location.