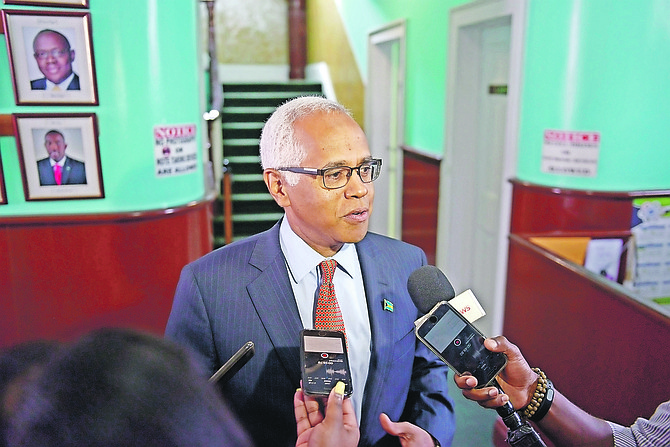 By AVA TURNQUEST
Tribune Chief Reporter
aturnquest@tribunemedia.net
TOURISM Minister Dionisio D'Aguilar yesterday insisted the government would not adjust its sliding scale tax structure imposed on gaming operators regardless of the findings of a study on its impact.
Mr D'Aguilar rebuffed suggestions the government's decision to embark on the study evidenced there had been no prior research on the impact of the tax increase.
He also denied assertions that the government had asked Island Luck to delay layoffs until the government study was complete.
"The government is seeking to maintain the tax regime that it is implemented and that will not be budged," Mr D'Aguilar said.
"Governments always change taxes every year," he continued, "we have a budget we can review and we can reassess. We can assess at that time but certainly not for the remaining 11 months of the next budget. Obviously one conducts studies, one looks at it, one assesses it, and then one determines whether one wants to alter.
"Right now we're not going to," Mr D'Aguilar said, "we're going to stick to it, see whether we realise what we wish to realise and everybody recognises that the gaming industry is woefully undertaxed. The people that operate these gaming houses, we all know, are making a lot of money and the government feels it should get its fair share. If it needs to be we'll tweak it, but certainly not in the upcoming year. They've been making out like bandits for quite some time."
In an article published by The Nassau Guardian, Island Luck CEO Sebas Bastian reportedly said the web shop was to delay its plan to terminate 350 employees.
Island Luck advised the government last month it planned to reduce its staff by 50 percent.
Speaking to media outside Parliament yesterday, Mr D'Aguilar said: "The government hasn't asked the gaming houses to do anything. The gaming houses operate a business and they can operate their business how they see fit.
"They have made an allegation that this is going to cause a significant detrimental affect on their business and we're seeking to see whether that's indeed the case. We don't think it will be, but they've asked us to do it and we've decided to undertake the study to see whether their allegations - they've made allegations, they've produced reports, and so we're just seeking to verify or to see whether there is any truth to the matter."
Mr D'Aguilar insisted the allegations levelled by gaming operators over the detrimental impact of the new tax structure mirrored their displeasure with the amount and rate of taxation.
"Yes they may have to modify the way they do business," Mr D'Aguilar said, "and remember now this is a business that makes $200m a year in revenue and the government was making $22m out of it. There are definite social costs to this business, there is definitely an affect that this business is having on our communities. Everybody complains about it, everybody knows what it is, so we're seeking to right size the government to get its fair share of the gaming industry."
Yesterday, Progressive Liberal Party Leader Philip Davis called the government's position "ludicrous".
"It is sad to do things without understanding what you're doing," Mr Davis said, "and then after you've realised the unintended consequences you say 'oh let me go and check now to see if I did the right thing.' It's ludicrous and we should all be concerned about the manner in which our country is being run today."
Mr Davis continued: "They just do things shooting from the hips and then when the unintended consequences come along they now try to reverse or see how they could go into damage control, but the horse is out of the barn."