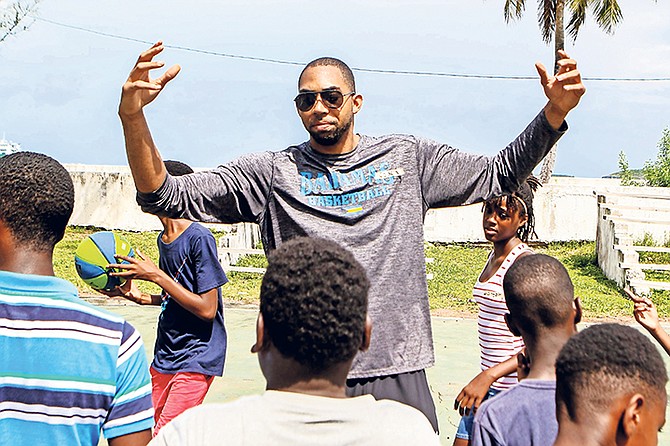 By RENALDO DORSETT
Tribune Sports Reporter
rdorsett@tribunemedia.net
PROFESSIONAL basketball player and national team standout Jaraun "Kino" Burrows once again teamed up with Project Cay Camp and the Haynes Library to help youth basketball development in Eleuthera.
Burrows, a descendant of Cupid's Cay, Governor's Harbour, said he was eager to embrace the opportunity to give back to the community. He led the basketball portion of Project Cay, taking the participants through drills on the fundamentals of the game.
"I still have family from Governor's Harbour on my father's side, my aunt still lives here, I have cousins everywhere here. I always wanted to come back and give to this area and really the entire area of Eleuthera," he said. "I feel like this is a wonderful opportunity to come and spend time with the kids, I know exactly the situation they're in growing up here on the cay. It's just wonderful for me to inspire and give back to the young kids before I head back to France to prepare for next season."
Project Cay partners with the Haynes Library to bring a love for sports, art, and reading to the children of Governor's Harbour. The camp is a one-week segment of the Haynes Library summer programme created by Daisy Crone who walked the entire length of Eleuthera in 2016 to raise funds for the camp.
For Burrows, it represents yet another opportunity to bond with the community of his youth.
"Another added benefit and just mixing and mingling with a lot of the locals. They know my family, they know me, so being home is unbelievable and it's always an enjoyable experience," Burrows said. "I see a lot of opportunity for the island of Eleuthera. There are so many kids, not just here but in every settlement. Basketball is a global sport and so many opportunities can evolve. In the camps and clinics you are going to have some that will go on to play high school or even college ball, but a lot of the other ones who will not they have great benefits too – they get the discipline, structure, the team bonding that they wouldn't normally get in certain environments because a lot of these kids came from tough backgrounds. I could never repay the game for what it gave me, but what I can do is give these kids all I have."
Burrows will continue his career in the LNB French Pro A League for the upcoming season. He reached an agreement on a contract extension with his Fos-Sue-Mur Provence Basketball Byers earlier this month.