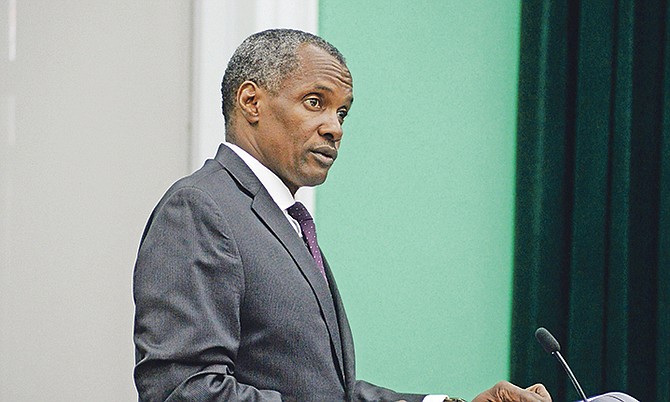 By NEIL HARTNELL
Tribune Business Editor
nhartnell@tribunemedia.net
A Cabinet Minister yesterday confirmed that a deal for Nassau's new power plant could be signed as early as next week to bring the energy sector "out of the dark ages".
Desmond Bannister, minister of works, told Tribune Business that the signing of a Memorandum of Understanding (MoU) between Bahamas Power & Light (BPL) and Shell North America for a new plant at Clifton was "very imminent" .
"Based on what I've been told, I expect that they're going to sign it very soon," Mr Bannister replied, after this newspaper was informed it could happen next week. "I would have to call and find a date, but my understanding is probably, yes. I am sure that very imminently they will make an announcement."
Tribune Business sources, speaking on condition of anonymity, said Shell North America executives were due to return to The Bahamas next Wednesday, August 1, although some expressed doubt there would be any MoU signing.
However, Paul Maynard, the Bahamas Electrical Workers Union's (BEWU) president, confirmed to this newspaper that he understood the MoU would likely be signed either on Wednesday or Thursday.
"They're going to sign it on the first or second [of August]," he said. "They're supposed to sign it. They're coming to sign the MoU." Mr Maynard suggested other details of BPL's commercial arrangement with Shell, which is intended to provide cheaper, more reliable energy for New Providence will be worked out in the weeks to come.
While the cabinet selected Shell North America as the preferred bidder on the BPL generation supply contract back in April 2018, the details of the two sides' commercial partnership still had to be thrashed out in negotiations, the results of which are supposed to be formalised in the MoU.
Shell is seeking to meet New Providence's long-term energy needs by constructing a liquefied natural gas (LNG) driven power plant at Clifton by 2021, although Mr Bannister yesterday said it would be designed to use multiple fuels so that it can employ the most viable source at any particular time.
"We need some reliability in what we have and what we do," Mr Bannister told Tribune Business with respect to the energy sector. "For us to come out of the dark ages with respect to the Clifton plant, and be able to clean it up is going to make a huge difference for this country.
"I'm not an economist, I'm a simple lawyer, so these things with respect to economic benefits are not something I can measure, but what I would certainly like to see is some reliability for the Bahamian people; reliability with generation, reliability with transmission. If I see that in my lifetime it will be a dream."
Mr Bannister said the Government was fully committed to the solution offered by Shell North America, adding: "It was the best option at the time when all the bids were evaluated, and we haven't gone back to look at anything else since. We have no reason to."
Few details on the Shell proposal have been provided to-date, other than construction of its LNG-driven solution will be completed in 2021 and provide up to 270 Mega Watts (MW) of power generation.
Darnell Osborne, BPL's chairman, told Tribune Business almost two weeks ago that she expected MoU negotiations with the global fuels giant to be completed within one to two months - a timeline that appears to have shortened.
However, some contacts spoken to yesterday by this newspaper expressed surprise that an MoU signing may be imminent, suggesting many commercial issues remained unresolved between BPL and Shell.
Several also revealed that there was confusion over who will be responsible for selecting, and procuring, the technology and generation engines for the new plant. Tribune Business sources revealed Shell is saying BPL will be responsible for this, but BPL is telling people the opposite, with one saying: "Let Shell do what they do best; they got the contract, so let them deal with it."
And complaints are also being voiced by General Electric (GE), the leading multinational and electricity turbine manufacturer, that it "cannot get a fair hearing" and is being shut-out of the process to supply the new Clifton plant and short-term generation.
"There are no real concerns, but a number of issues remain unresolved," one source said of the BPL-Shell situation. "The Power Purchase Agreement (PPA) is not done. There's a lot of work to be done on completing the agreement, the final terms of the contract, and they're no closer to signing this thing than a couple of months ago.
"Shell is coming to the country on Wednesday, August 1, and that team is not coming here to sign; they're coming to negotiate."
The PPA is key, as this will set out the price and other commercial terms governing BPL's purchase of energy from the Shell plant, and for how long. It will also deal with the plant's potential handover to BPL at the end of this period.
The source, speaking on condition of anonymity, added that "the real issue" was GE's complaint about seemingly being unable to participate in the provision of generation technology. They added that GE had made "a viable offer to supply the new plant at Clifton..... but have not been able to get a fair hearing".
GE is up against Wartsila and MAN Diesel, but the source said calls for Shell to select the engine/technology provider were currently problematic because it did not have a signed MoU agreement with BPL and the Government.
Another contact, confirming this situation, said that while "there's no certainty the GE offer is so much better" than its rivals, the process "should at least be transparent and allow GE to make a presentation".
"It's in the interests of all parties that GE is given a chance to present their solution," this source added. "Have a government technical team review the offer, and make a decision in the best interests of the company and country."
The source added that among the unresolved issues was where the new power plant will be built, given the scarcity of available land around BPL's existing Clifton plant. New Providence Development Company is among the existing landowners Shell has spoken to, while the infrastructure to bring LNG from ship to shore may have to cross property owned by the likes of FOCOL Holdings and Tennyson Wells' Source River entity.
Seabed leases from the Government will also be required, and the source added: "There are so many pieces to this puzzle. There are negotiations that have to happen to facilitate this new plant."