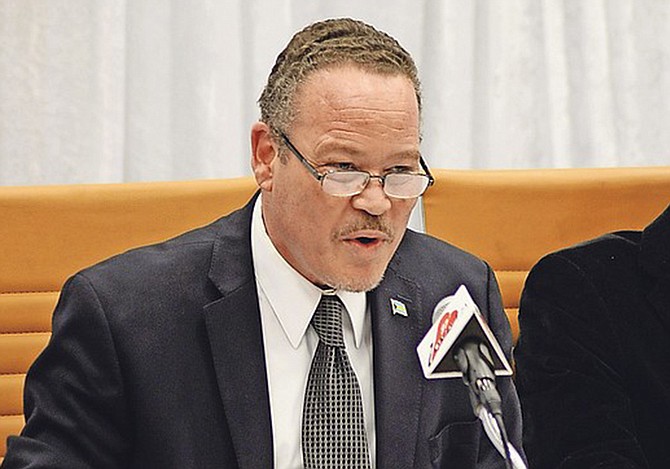 By AVA TURNQUEST
Tribune Chief Reporter
aturnquest@tribunemedia.net
ATTORNEY General Carl Bethel yesterday rejected an appeal for the government to stall shanty town evictions pending looming court action from a group of 200 residents.
Human rights attorney Fred Smith, QC, sent the plea to Prime Minister Dr Hubert Minnis, Mr Bethel and other senior government members on behalf of residents of shanty towns in New Providence and Abaco.
The July 29 letter was sent on behalf of approximately 200 residents of "unregulated communities across the islands of New Providence and Abaco," and a non-governmental organisation called Respect Our Homes Limited (ROHL).
ROHL was formed, according to the letter, with the object of advocating human rights causes of the occupants of unregulated communities in the Bahamas.
Residents in New Providence were given until August 10 to vacate their homes before the structures are bulldozed, while evictions for those in Abaco are slated for next year.
"No the government has announced a timeline," Mr Bethel said yesterday, "we extended that timeline. That time is up, when it is up and the government will proceed. And any attempts by this so-called company Respect Our Homes Limited will be vigorously resisted by the state, any attempts to seek group or collective rights over and above what the law provides for the individual. We will be vigorously defending the right of the committee and government to assert law and order."
Mr Bethel insisted residents with cogent, legitimate rights or expectations could present their claim to the Shanty Town Action Task Force.
Earlier this month, the government delayed its July 31 deadline for shantytown evictions until August, to ensure that it covered "all legal grounds," according to Labour Minister Dion Foulkes, who heads the task force.
Mr Foulkes previously said all the properties being used for unregulated communities, with the exception of one, is constituted as Crown land leased by the government to Bahamians for the purpose of farming.
Yesterday, Mr Smith said: "If they're on government land and the government thinks they're trespassing, well take them to court and evict them. Just like when you're a landlord of a property you have to go to court to evict them. They now admit in their public utterances, that most people are tenants of the Crown.
"If they're tenants of the Crown," Mr Smith continued, "why not pursue their right to title through the courts? They don't want to do that because people would have possessory title and adverse title under the Limitation Act. That's the problem they face, because even if those properties were rented out as farm land, the fact is they have been farmed and as urbanisation expanded to those areas, the government made them stop.
"And if you go out to many of these shantytowns, they are farming on that land. You can't stand by and let somebody break your lease for five, ten, 30, 45 years – it's called acquiescence, waiver, adverse title."
Mr Smith added: "They have a big problem on their hands, and so they should because they've allowed people to build homes, to create a life, to create communities on these properties, you don't bulldoze them overnight."
In his letter to the government, Mr Smith claims the policy to eradicate unregulated communities "is unconstitutional and infringes the guarantee against freedom from discrimination embodied" in the Constitution.
However, Mr Bethel yesterday said he doubts Mr Smith will be able to marshal a specific interest that is common to everybody to satisfy the country's law on class action suits.
Mr Bethel said: "There may well be legitimate issues that individuals may have. The government is not insensitive to matters that concern individual rights or expectations. If people have legitimate rights or expectations they are able to make representation or someone may make representation on their behalf. Nobody is insensitive to the rights of individuals."
He continued: "(The letter) it appears to be a transparent attempt to create some entitlement for this company to enforce group or collective assertion of rights. This letter is an attempt to get around Bahamian law. In my view, it does not have the merit that it purports to have, that is all.
"Individuals have rights peculiar to themselves, and those rights will not be pushed aside and discounted. Any cogently advanced right that has grounding in law will not be ignored. But this attempt in this letter in my view to get around provisions of law is transparent and in my view, useless."