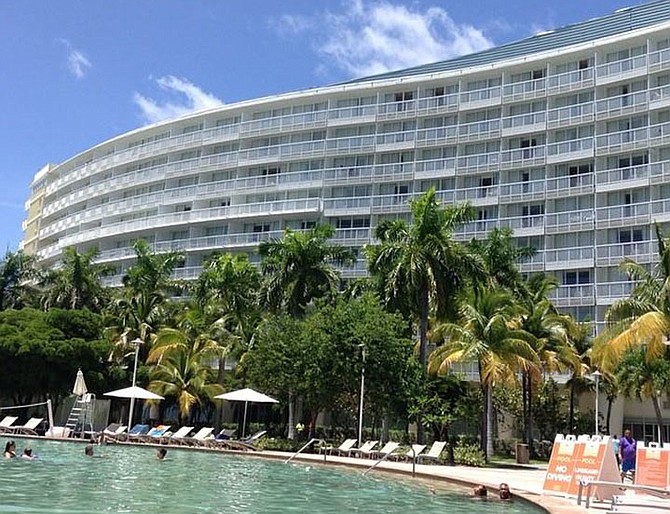 By DENISE MAYCOCK
Tribune Freeport Reporter
dmaycock@tribunemedia.net
DEPUTY Prime Minister Peter Turnquest has admitted negotiations for the sale of the Grand Lucayan Hotel have been a complicated and difficult process with the four parties at the table.
Mr Turnquest - who is on record saying the negotiations were "coming along very nicely" - was upfront with workers at the Labour Day rally in Grand Bahama on Friday.
"We know we have to get this hotel opened," he said. "It has been a complex negotiation - no point in lying to you; it has been difficult.
"We have four people at the table, and whenever you have two people, it is difficult. We have four people, so it is complex because they all have got to agree, then we have to put it in writing, and then everybody's got to agree again.
"But it is coming together, and we expect a resolution. We expect that property to open," said the minister of finance.
The parties involved in negotiations are the Wynn Group, the purchasing company; the government of the Bahamas; Hutchison Whampoa and the Grand Bahama Development Company and the Grand Bahama Port Authority.
The sale of the hotel property on the Lucaya strip is critical to the survival of Grand Bahama's economy, which has been struggling since the three-resort hotel closed following significant hurricane damage.
There are some 300 workers employed at Lighthouse Point, which is the only property still open.
The Sir Randol Fawkes Labour Day March began at 9am, and climaxed at the park at St George's High School. Minister for Grand Bahama Senator Kwasi Thompson, Pakesia Parker Edgecombe, MP for West Grand Bahama, Rev Frederick McAlpine, MP for Pineridge, and PLP Senator Fred Mitchell were present.
Michelle Dorsett, president of the Commonwealth Union of Hotel Services and Allied Workers, urged the hotel workers to remain positive and give 100 percent service to guests.
"We have 320 plus workers still up there working, and we are a strong supportive union for the workers and our members," she said. "The deputy prime minister said there are four persons involved in the hotel sale and we have to be patient as leaders and workers."
Ms Dorsett said the union and its officers are working to protect workers' benefits, provide counselling and assistance.
In response to the government's plan to increase VAT from 7.5 percent to 12 percent, she said: "I appreciate the government being truthful about what is going on in the country - we have a crisis. The country is facing some challenges, and we have to stand together and pray for the country's turnaround.
"We ask hotel workers to remain positive and to come into work and make sure they carry-out their duties 100 percent so that our guests are pleased when they leave," Ms Dorsett said.
Kirk Russell, area vice president of the Trade Union Congress, expressed serious concerns about the status of workers, particularly casual workers in the industrial sector, as well as the high employment of foreign workers.
The government must seek to address the issue, said Mr Russell who stressed that something has to done to ensure that "casual" workers can become permanent workers.
Mr Russell said there is also concern about a large number of foreign workers at the Grand Bahama Shipyard.
He feels that there are a lot of jobs in Grand Bahama that can go to Bahamians, and said Bahamians are frustrated when they see buses of Filipinos and other foreigners collecting pay cheques when they are jobless.
Quinton Laroda, area vice president of the Bahamas Union of Teachers, said the union wants to see students, teachers and administration staff relocated from the Eight Mile Rock High School, which has been plagued with mould.
The union executive claimed that the school's administration and students continue to experience consistent health problems.
"Too much money has been spent in the EMR school when we could use the new facilities," suggested Mr Laroda.
On the positive side, Mr Turnquest, when he spoke, highlighted some positive things that are underway in Grand Bahama.
He commended Mr Thompson for introducing beekeeping on Grand Bahama.
"Today, we have almost 100 young people trained in the business of beekeeping and apiary, producing honey," he said.
Mr Turnquest also mentioned the government is working on a project in West Grand Bahama that will transform the community.
"This ain't no Ginn project, this is going to be a transformation for the Ginn project, and we have another project in West Grand Bahama that is also doing some expansion. There are other things we are working on, but we promised the investors we wouldn't speak about it," he said.
"But even though things are tough, we remain optimistic that Grand Bahama is going to rebound - I ask for your continued patience, prayer, and support."
Before the rally was dismissed, workers on Grand Bahama were told of the tragic news involving the deaths of some four marchers in New Providence, who were killed when an unmanned truck mowed into them and injured others. Pastor Eddie Victor prayed for the victims' families and the country.